The Betfair Ladder Trading screen on Bet Angel, is likely the most used and certainly the screen you'll see most often when watching Betfair trading videos, especially horse racing.
What is a trading ladder?
The ladder is a view that will be familiar to anybody that has traded on the stock market. This is because in a similar way to a stock exchange market, real-time full market depth is shown on ladder display. This allows you to see the order book and where unmatched orders are sitting in a market.
Betfair traders often look at the ladder in volatile markets to see where prices are heading in the short term and 'trade off' of that information. They can see matched and unmatched bets and react very quickly as new infromation becomes available.
Although just about every trading software that plugs into the Betfair exchange will offer a ladder interface, how people use it and what they want from it differers hugely.
Why you should customise your ladder
It's important in a competitive trading market that you get your own edge. You need to find your own unique view that give you some insight that another trader isn't looking at.
That's why the Bet Angel ladder trading screen is the most customisable ladder trading screen on the market, it doesn't matter if you are a pre-off or in-running racing trader, a football trader, tennis trader, golf trader, greyhound trader or trade any other sports. The options and tools on hand in Bet Angel caters for everything.
The ladder settings, options and ways of customizing are so vast that there has already been a few blogs done to highlight specific areas and ways of customizing your ladders, if you've not yet seen them they are worth checking out as there's almost certainly some settings or options that will be of use to you that you were unaware of, I'd suggest starting with these three at least
Ladder Trading Screen – Designed by You
Display Special Trading Information
Predicted Football Odds on Ladder
Take your Betfair trading to a new level with 'Markers'
We are always trying to think of ways to improve your trading on Bet Angel and with the release of Bet Angel V1.55 the ladder trading screen has had yet more options and features added giving it yet another layer of customisation.
A major feature added in V1.55 was what we've called 'Markers'. As the name suggests these are markers which you can place on your ladder as visual reference points. Not only can they be configured and placed manually but they could be set using a Servant or Automation rules file in the background.
There have also been several major enhancements in other areas of Bet Angel in V1.55 many of which can now be referenced on your ladder screen, allowing you to display almost anything you want on there, including things like stored values, historic data, markers, scores, predicted profits and so on.
Using Bet Angel 'Markers'
A good way to showcase some of these new options and the scenarios you might find them useful for, is to post some links to some ready-made ladder settings files. You can download these from our forum and import them directly into your Bet Angel, these are then ready to select and use straight away.
To begin with, this makes use of an option that's existed in Bet Angel for a few years now which is the ability to 'Import (& Export) Ladder Settings', this options allows you to download and import any of the ready-made ladder settings files from the Bet Angel forum. You can also swap/transfer your own ladder settings from computer to computer or to friend or family members computer quickly and easily without the need to re-create them on each machine.
New Ladder Designs now Possible
Let's have a look at some of the things you can now do with Bet Angel Professional.
The follow are examples we have given that you can use or modify. The range of options you have is almost unlimited. But let's look at some specific examples: –
Best Back and Lay Prices Highlighed in Odds Column – This is a useful file for in-play trader when the prices are moving very fast and its difficult to see where the current best back/lay prices are and how big the gap is between them, other options this settings file uses is the the auto-center so you'll never lose track of where a selection is trading no matter how much it odds are jumping around and the traded volume is displayed in percentages rather than monetry amounts.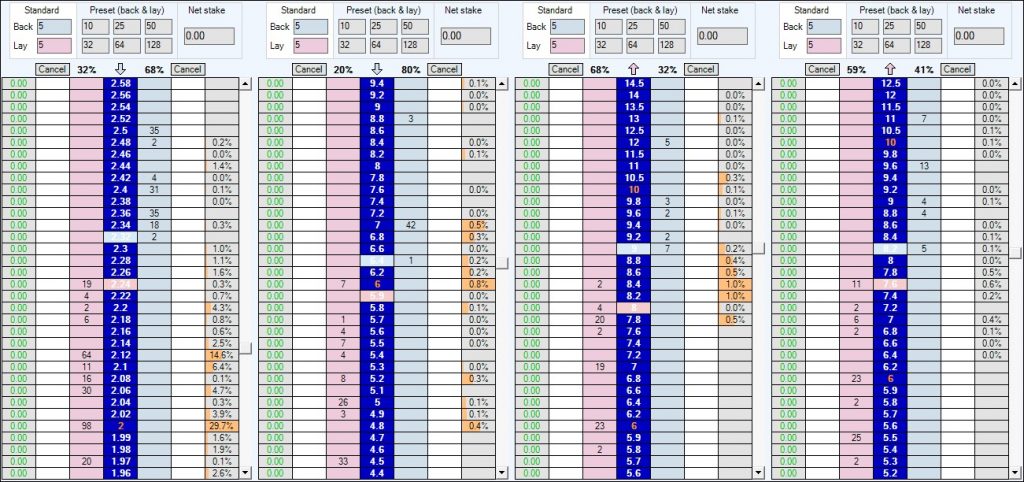 Highlight Crossover Odds on Ladder – This Ladder settings file makes use of the new markers added in V1.55 and highlights the odds where the odds where the price increments change ie, 2.0, 3.0, 4.0, 6.0, 10.0 etc, also known as the 'Crossover' prices/odds. This also displays your EPIQ (estimated position in queue) within the traded volume column.

Highlighed Key Price Markers (Fractional and Crossover) – Similar to the file above except this goes a little further and also includes markers around where the fractional odds traditionally used by Bookmakers appear on a decimal ladder screen. You will often see price trade between two sets of fractional odds so if you don't already know were they appear this type of setting will help show where ranges will likely form between.

High/Low Back & Lay Prices Highlighed on Ladder – This type of settings can be useful when trading a few types of sports as it will show you the high/low prices each side of the book has reached since you last requested it, ie, you tell it when to start monitoring and it will show the high/low prices reached thereafter, you can then reset it again anytime you want with the press of a key.

Selections Volume Increase Since 'X' time ago – There could be also sorts of uses for displaying this information, the settings used in this file will display the increase in volume for each selection since 5 mins to the start, so its typically set up for pre-off racing traders who want to see which runner the money is coming for especially in competative handicap markets. It could however be used in just about any sport to measure the increase between two intervals or the in-play traded volume etc.

Display the Last Traded Price & VWAP as Faded Markers Overtime – There are two settings file to download from this post, one will show the LTP in the odds column 'fading' over time so you can easily see if the price is trending in a direction and if so how quickly its moving or if its stuck in a range, the other displays the VWAP (Volume Weighted Average Price) and uses traffic light colours to indicate historic VWAP prices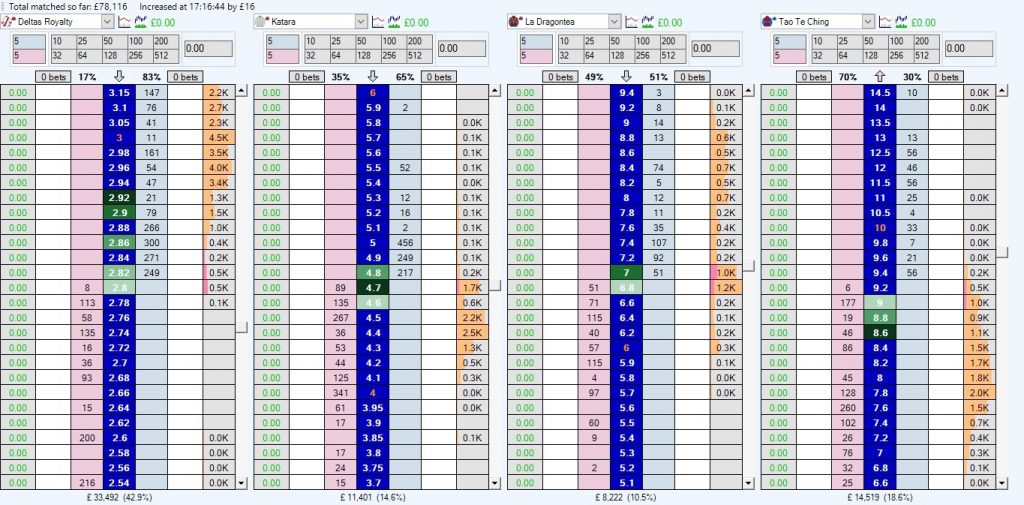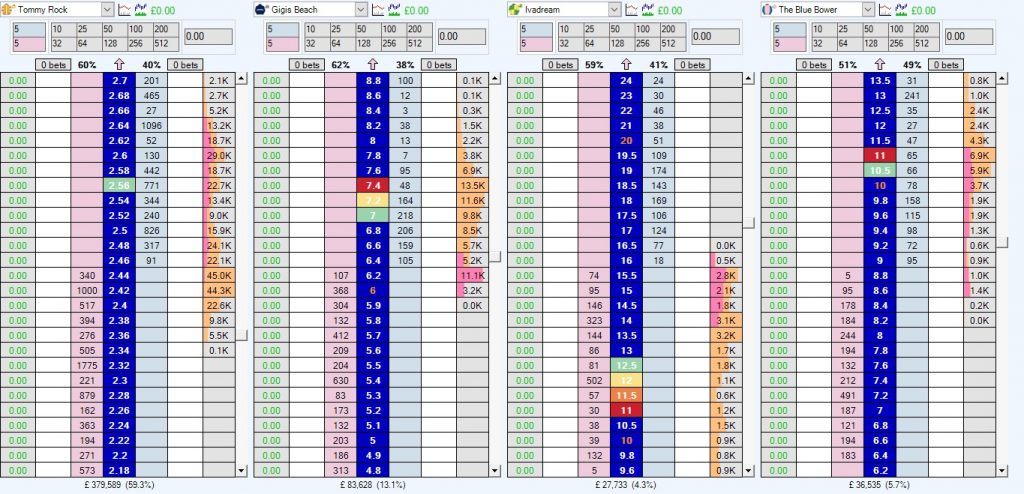 VWAP Marker with Matchsticks – This settings file is useful if you want to know where the VWAP is and see the 'Matchstick' charts on the side of the ladder to help pinpoint either an entry or exit or maybe if there's a change in direction after the VWAP is broken. This too also shows the traded volume as a percentage traded rather than actual volume.

Staying up to date with new templates
What you see here is just a the small tip of what is a very large (seemingly neverending) iceberg, were almost anything is possible.
Of course, you can combine any of the settings used from any of the examples above with those in another, to create your own unique bespoke ladder settings for all sports and Betfair trading strategies. Or maybe you've seen something in one which you think will be useful or compliment an existing ladder setup you're already using?
It's worth keeping an eye on the 'Ladder shared files' section on the forum where there are new examples are being uploaded regularly. Even if you don't need that particular settings file, you may just see one of the many options available that you were unaware of which you'd have use for in a different context.
We hope you enjoy all these new Ladder trading optionst that will take your Betfair trading to a completely new level.