We are on the verge of the Cheltenham Festival, the pinnacle of the jumps racing season.
There will be great quality horses and excellent racing markets over the next four days, where we will see over £100 million being matched on the festival alone.
So whether you're betting or Betfair trading, there are going to be opportunities in there for you and to prepare you for this week I am going to highlight some of the key points of this fantastic festival of racing.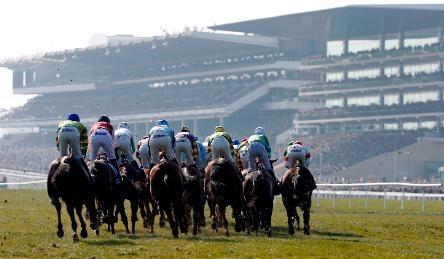 Cheltenham tip: Take advantage of the large volume
So the first thing to note about Cheltenham is the volume. It is absolutely massive!
You will see races with betting volume at the low end of £2-3 million. If the conditions are right, you could see up to £11 million on a race. However, on average, the races will turn over about £4 million per race. When you compare that to day-to-day racing, it's immense because will probably match on average about 10 times less.
What's different to my usual trading strategy at Cheltenham?
I tend to trade Cheltenham races a little differently from how I would trade a traditional day-to-day race. That is because there's so much money in Cheltenham, and that money tends to come in over a more extended period.
So when I'm trading a day-to-day race, I tend to focus my energy and effort on the high liquidity period of the race. This is quite a small period occurring around the last 5 to 10 minutes when there's lots of money coming through in a structured manner, making it possible for me to trade it.
When we're looking at all of the money that's coming through Cheltenham, millions of pounds per race, we tend to find that it comes in over a much longer period of time. So it's perfectly possible that you may actually end up trading a race for a good half an hour.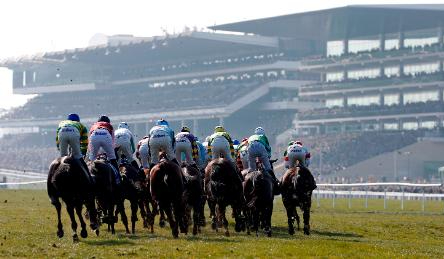 Cheltenham tip: volatility & unique trends
If you have a large amount of money waiting to get matched, it takes longer for the positions to get through. As a consequence, the average amount of volatility that you tend to see at Cheltenham is lower than you'll see on your average race.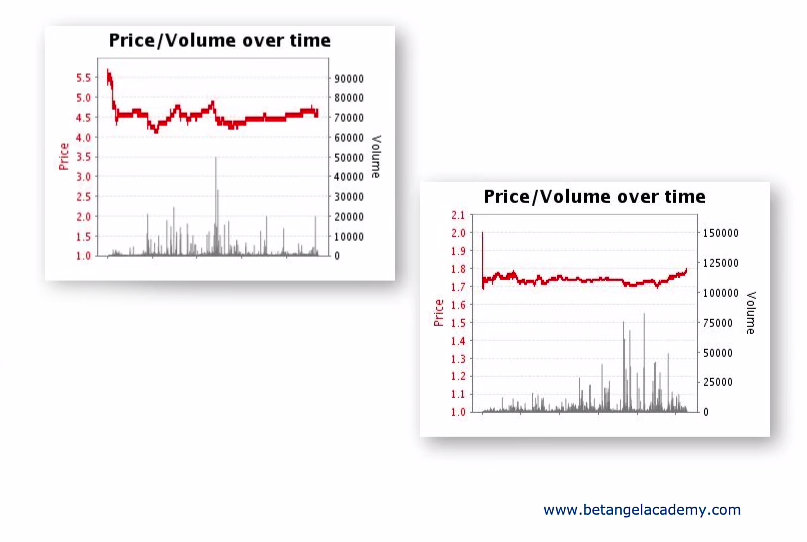 Prices tend to get stuck in a smaller range than you would typically see on a day-to-day race. Now, the interesting thing is over several years, the volatility has actually been increasing at Cheltenham. So it will feel calmer than a traditional market that you've been trading in Bet Angel.
However, over the years, it gradually has been getting a little bit more volatile. In other words, the odds are moving around a little bit more, and I would expect to see that again this year.
Trading more than one runner
So you'll often see me posting large P&Ls during Cheltenham on individual races. Over the week, they can add up to much more significant numbers. The interesting thing is that this is a by-product of the way that Cheltenham trades.
I would expect 10 times as much from a race at Cheltenham than a typical race. Additionally, we've got much longer for that money to go through the market. I can actively trade it for that period of time and because the markets behave themselves a little bit more than a low-quality, all-weather race in the middle of winter on a Tuesday, you tend to find that you can take more than one position.
But it's also perfectly possible to trade on more than one runner, and I tend to trade on more than one runner for a longer period of time:
I'll open a trade, I'll close the trade and if I'm happy with the way that the market's behaving, then I'll do another and another and another.
That's typically where you see those big results coming in from any of the races that you see at Cheltenham.
Keep an eye out for jockey or trainer gambles
When we get a nice run of winners at Cheltenham, the market can really come alight.
In 2022 we had some classic Mullins gambles come through the market and heavily shape the prospects on the last day.
If we go back to 2017, Willie Mullins had no winners in the first two days; despite putting out the best part of, I think, 25 or 26 horses, not a single winner came in.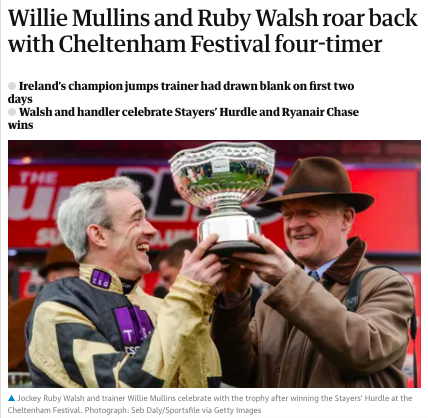 So when Ruby Walsh teamed up with him on Thursday to win the first race with Yorkhill, that created a bit of interest in the remaining races where that partnership was taking place. What actually happened on that day was that Ruby Walsh actually ran a four-timer. So you can imagine at the end of each one of those races the interest in the partnership on the next race really spiked up.
As we came towards the end of that day on Thursday, people started backing on the Gold Cup, focused on Ruby Walsh and the Mullin's horse.
The interesting thing was they lost the first race of the next day on Friday, and as a consequence, the whole pattern of activity changed all of a sudden, the favourite in the Gold Cup started to drift, and you could have actually traded it in either direction.
So more significant moves do take place at Cheltenham; you just need to be looking very carefully for them.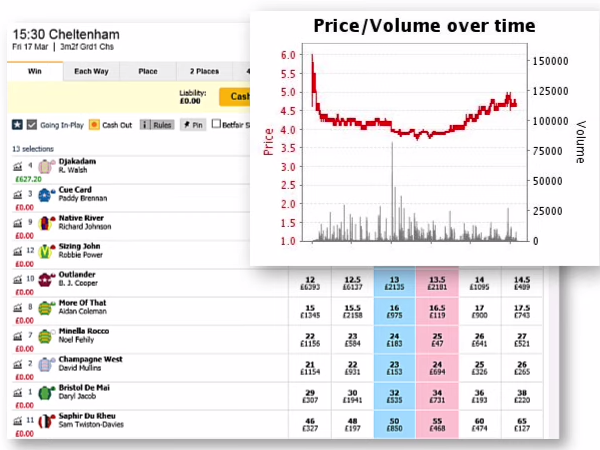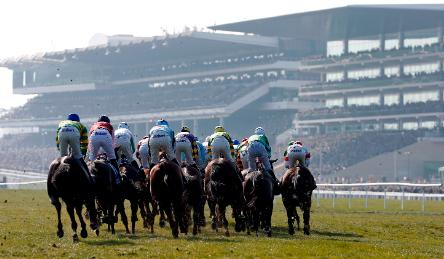 Cheltenham tip: Understanding Book percentage
What does book percentage mean and how does it benefit you?
Now, one thing you may not be aware of at Cheltenham is that the book percentage is tiny.
Of course, this is only relevant if you are using a betting exchange, "BSP" is the Betfair exchange starting price. With a traditional bookmaker or sportsbook, the overround will always be massive. Especially in the big handicap races.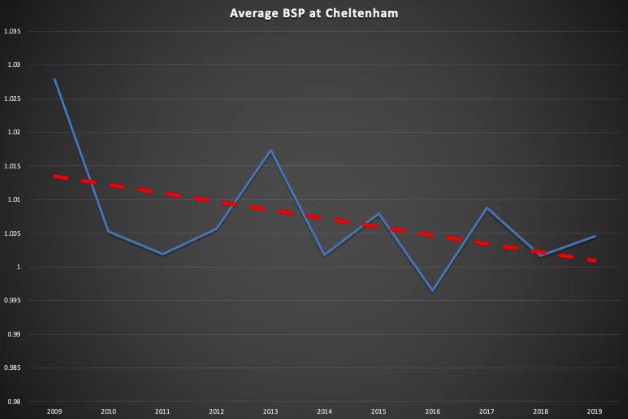 The advantage that you have is that when you're betting into a Cheltenham market, you're going to lose very little to the other side of the book. That includes these really big competitive, massive field handicap races where you get some really big prices.
Now, the problem is that you are going to struggle to pick one winner out of, say, 20 horses at trading at very big odds. Now you should take advantage of a feature like Dutching to cover a range of runners. That way, you can say, I want to win £100 if any of these six horses go on to win the race.
That lets you capture that value with a decent return at Cheltenham because the markets are so competitive between backers and layers. Now this means you'll lose very little in theory to the other side of the book.
It's an excellent way of betting into a market at Cheltenham. It gives you a good chance of winning at a reasonable level of risk.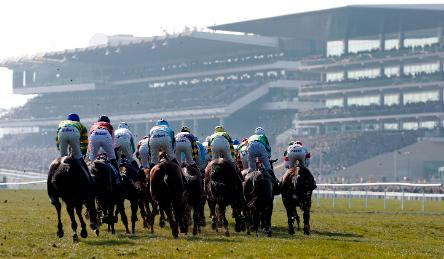 Cheltenham tip: How in-play here differs to normal racing
There's something very curious about the in-play markets at Cheltenham. Typically, when we look at day-to-day racing markets, about 80% of the volume is done pre-off and about 20% in-play.
What we find at Cheltenham is, that there's more money traded pre-off than there is in-play. That balance shifts even further in favour of the pre-off markets. Typically on average, over the last 10 years, we've seen about 85% of volume pre-off at Cheltenham and about 15% in-play.
A percentage of the total amount matched in-play actually drops off a little bit at Cheltenham. When you look at the statistics around in-play, you often find that the amount of money that's going through there tends to be firmer. What do I mean by that? Basically, when something looks like it's going to win, the money tends to go down, and it tends to be more confident. The same happens when it looks like a horse is about to lose.
Again, in play we see that the volatility that you typically see on a day-to-day basis doesn't exist there. Additionally, at Cheltenham, you tend to find as a percentage of total turnover in-play is slightly smaller.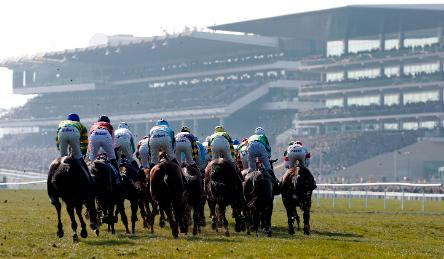 Cheltenham tip: Plan ahead
Cheltenham runs from Tuesday to Friday and typically, every year, I use the opening day on Tuesday as a sort of calibration as to how the rest of the week is going to go. You never quite know what will change from one year to the next.
I typically use Tuesday to experiment to get my feet under the table effectively. You find that the liquidity and interest in the markets grow as the week carries on until we peak on Friday with the Cheltenham Gold Cup, which of course, is the feature race at the entire meeting.
So I recommend that you do the same as well, use Tuesday to calibrate your expectations and then hopefully build your confidence as we get towards the business end of the week.
I hope those hints, tips and bits of advice have been helpful for you. If you want more detail about what I am talking about and want to fully prepare yourself, then you can get it at the academy, where I've created long videos on Cheltenham explaining in detail how to trade Cheltenham.
You can also access my trading diaries there. So you can see how I progressed through each day at Cheltenham in prior years. On the academy, you can also view videos of actual Cheltenham markets, so if you've never seen them before or you've forgotten what they're like, head over to the academy, and you can actually watch what the markets look like and how they traded in the past.
Last but not least, good luck for Cheltenham!

Check out the academy to learn more!