I want to tell you a story about the perfect golf
Curiously, the first ever bet I placed on the Betfair exchange, was on Golf. Pretty much since that day Betfair trading Golf markets has been part of the mix of markets I'm active on.
Golf markets on Betfair are characterised by big fields and on the winner market, big markets. A lot of golf betting systems rely on picking individuals who stand to win the coveted green jacket at Augusta. In traditional betting markets picking somebody to finish in the top ten is also popular. But, of course, you have many Betfair trading strategies that you can deploy on a Golf tournament.
Now and again you can get a 'perfect trade' and this happened fairly recently. Let's learn how this happened, so if it happens again you can hopefully catch it!
So you must have seen me discuss the US Masters many times across all my platforms. Whether it is these blog posts or my YouTube videos. The reason that I love this particular tournament is a simple reason: it's played on the same course year after year.
This gives you a really good idea of how the course is likely to play, you know where those easy holes are and you know where the hard holes are. That obviously brings you huge advantages when trading, but it's important to note that even though the holes stay the same, they can bring those advantages and challenge depending on the day.
Know when it happens, not just where it happens

With a four day tournament, the first two days are played in a sort of in random order and then the field is cut. They then change the playing order of the players on days three and four, over the weekend, because they want the tournament to end so that the winner is coming up the fairway very close to the end of the tournament.
This brings up opportunities on days one and two. Imagine there's an early leader in the clubhouse with another good player coming round to an easier part making it likely that they will pick up shots. Then of course, if they pick up those shots, the price on the leader in the clubhouse is going to drift and vice versa. So this is one way to trade it.
However, when you're at the weekend at a golf tournament, then all of the players are going out in reverse order. The worst players get out early in the morning, finishing the course early on. While, the best players finish last and come up to the 18th to collect their prize.
How did this perfect trade come about?
Before I explain, the first thing to note on all of these, is the gap between the leader and the peopel chasing, a fair indicator of who's likely to be in contention.
If we look at the stats, 90% of winners are within five shots of the leader at Augusta. We can also see a similar number on day two, but obviously it compacts a little bit. Then when you get to day three, you're really looking at sort of three or four shots from the lead and it gives you the opportunity to chase down and win the tournament.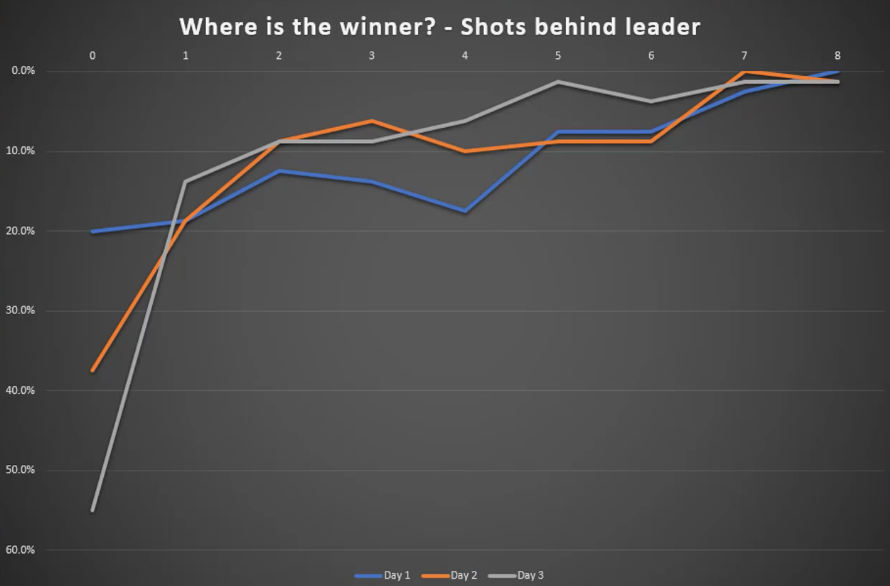 Obviously, the higher up you are then that the better. So when there was no deficit, in other words, you were on the leader, about 55% of players go and win it on the last day when they are the leader. About 14% are within a shot of the leader and then it's about 10% for two and three shots.
So the situation we had in Augusta in 2016 was that Danny Willett was three shots behind the leader which was Jordan Spieth. Spieth had a shot at winning it if he didn't make too many mistakes, but as with all things, it's actually quite difficult to be consistent, as any golfer will tell you.
As a consequence, you're always in with a shot of winning if there's a problem with whoever's in the lead. Let's say they make a couple of bad shots or they send the ball into the water. Suddenly there's a whole bunch of people in contention!
If we look back to the tournament you can see that Danny Willett was out before Jordan Spieth. Spieth was basically in control of everything in terms of seeing all of the people going in front of him. He knew what he had to do in order to stay in contention for the green jacket at the end of the tournament along with a healthy $1.8 million dollars!

So the interesting thing about Willett is that he was playing very consistently all the way through, picking up shots here and there. By picking up the odd birdie throughout the tournament he actually ended up on the final day completing a round at five under, which is a pretty good round at Augusta.
His consistency meant he didn't drop a shot at a single hole, was just playing percentage golf and doing what he could to put himself into contention.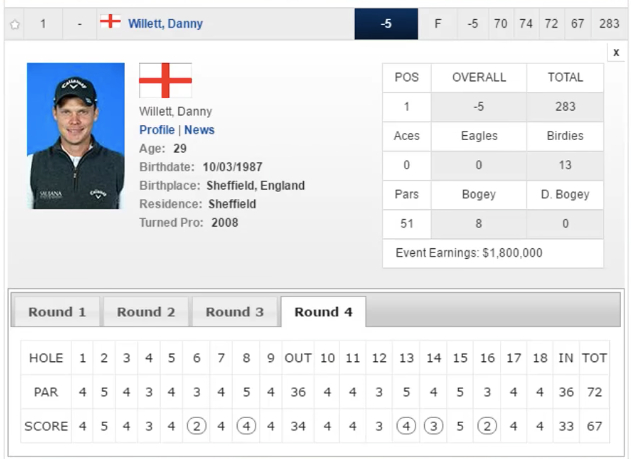 On the other hand, Jordan Spieth was three shots in front where he could probably win the tournament with that. However he realised that he would require one or two shots extra to be able to definitively clinch the championship.
So Willett's was off in front and Spieth was following. As Willett started to climb up the leaderboard there were other players like Lee Westwood who were creeping up to the top of the leaderboard as well.
This put a little bit of pressure on Jordan Spieth, but Spieth is a good player. In fact, as we came to the turn ('the turn' for non golfers is when you reach nine holes, you basically go out in nine and then back in nine, so they call that the turn) he picks up a shot on the second. This is not unusual at Augusta, because that is one of the easier holes where you would expect to pick up a shot.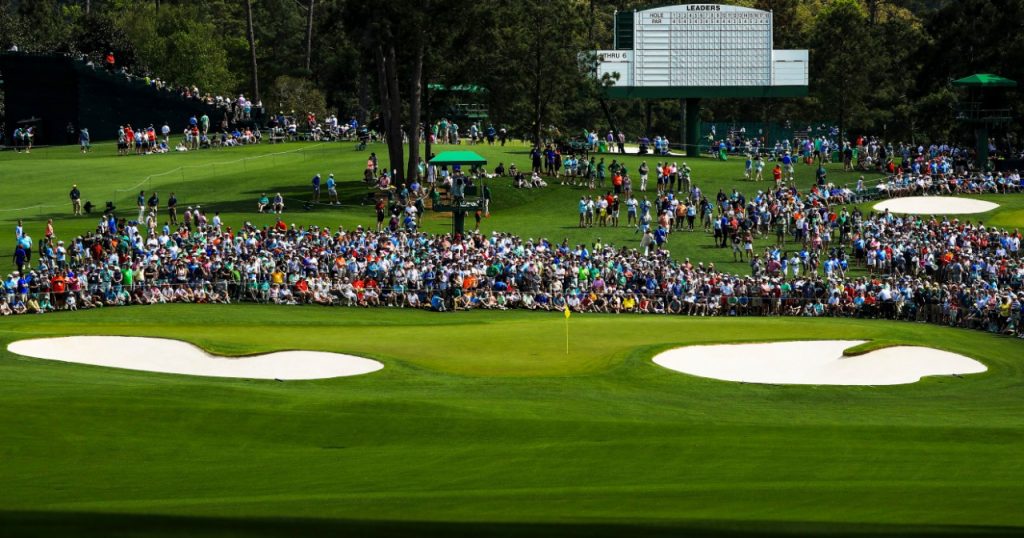 He then he dropped on the fifth, but as he reached the six, he went, birdie, birdie, birdie, birdie..
He got four birdies in a row, which was phenomenal! So he went through the turn with a birdie on the ninth, but at that particular point the ninth hole is the last hole that could be considered easy to reach a par.

When you get into the 10th, 11th and 12th, those are much harder holes, the hardest ones in the course. In fact, if you look at holes four to six, they're also quite hard as well so he did pretty well to get through that and pick up a shot over those four.
After all we're only human, mistakes happen…
Then he gets to the famous Amen corner at Augusta. If you know how the course plays, this corner is generally considered to be one of the harder parts of the course, arriving there five under. He then tees up his shot to then mess it all up by dropping a shot on the 11th.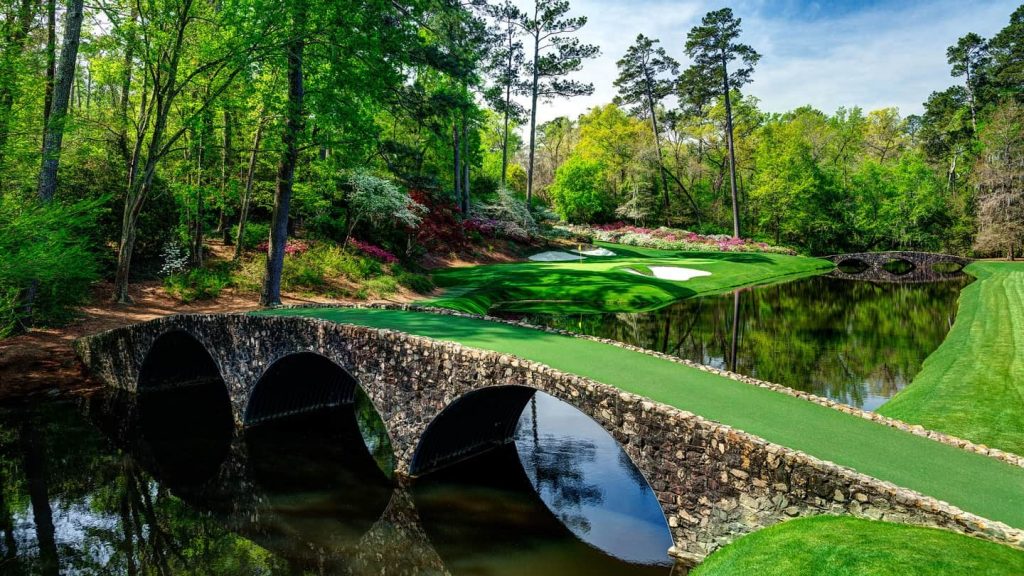 When he turns up at the 12th, he realises that Willett has gone through and is plain sailing. Spieth is still five under for the entire tournament, but people are getting a little bit closer to him.
Anybody who watches the Masters as a golfer knows what the 12th is like. It's a par three and you have to tee off over a bit of water to land on a green that's incredibly long and thin. If you're short, you end up in the water, if you're long you end up in a bunker.
So it's a bit of a nightmare!
Unfortunately, Spieth teed off and sent his ball into the water. Immediately you've got a serious problem there because you're going to have to place your ball and and play three off the tee.
So he did that and he was going to have to take a bogey or perhaps a double bogey. But on his second shot, he got underneath it and fell short ending up in the water again to gasps from the surrounding crowds.
By this particular point, all of a sudden he's in real trouble and he needs to play the next shot reasonably well. So he plays the next shot and sends it long and into the bunker!
Now, prior to playing hole twelve, his price has basically moved to 1.09 and plenty of money matched at 1.10. After, it was somewhat higher!
How to trade this scenario?
A piece of advice that I often give, especially where you've got a player in front that has already completed those holes successfully. Is that if you have got a player coming behind him that has to go through that those difficult holes, is that sometimes it is worth a little lay on those guys. This is based on the idea that if they drop a shot then odds are going to spike up as the other player comes into play for a higher position in the tournament.
So naturally, with Spieth at 1.09, he's five-under and still three shots in front of everybody else with six holes to play, that price was fairly reasonable for him at that particular point. The anticipation with this trade is that maybe he would bogey or perhaps double bogey hole which would send his price out a little bit.
However, in fact, he ended up carding a seven on the twelfth, which was a complete disaster because he went from five under to one over. Suddenly Willett, a few holes ahead, became the tournament leader!
Now realising this, you can could anticipate that if Danny Willett could just hold it together to win then Spieth would have to perform a miracle to change that.

Especially a tough venture even with the potential to drop a shot at the last three holes at Augusta, which he did do, dropping a shot on the seventeenth. It was a bit of a task for Speith to be able to turn things around in those final few holes.
Framing the trading opportunity
Firstly the set up was good…
The price on Spieth was very low and the opportunity to lay him came around to that cluster of holes where potentially he had the opportunity to drop a shot and if he would have dropped, you would have got a little bit of a gain out of that.
But in fact, on this particular occasion, everything lined up perfectly and he completely messed up, which is not unknown at Augusta. There have been these occasions before, especially when Nick Faldo won at Augusta, he was the benefactor of that sort of thing and we've seen this happen before throughout the years.
Spieth's price started shooting out from 1.09 because he made such an unbelievable hash of it!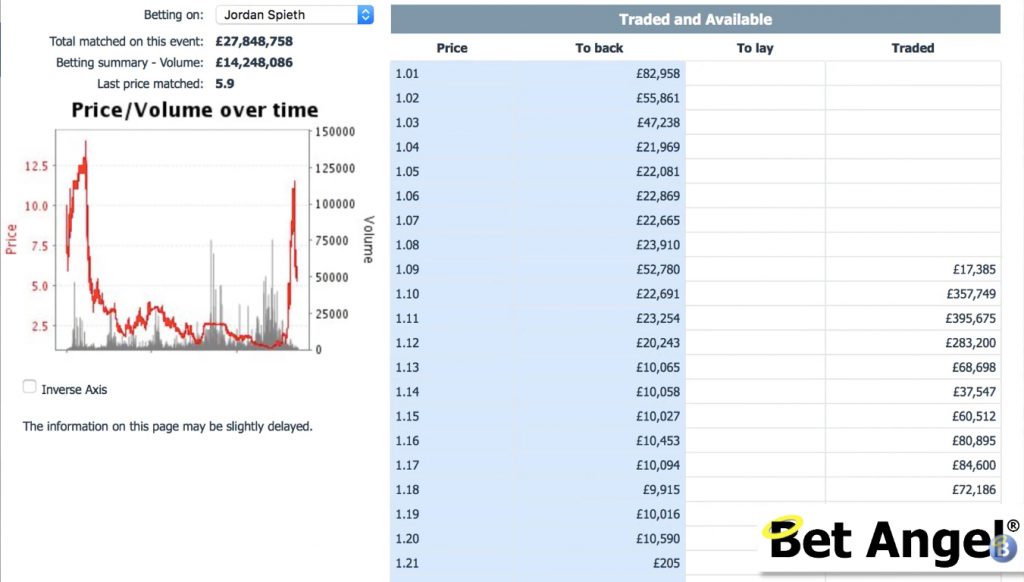 For anybody that was laying Spieth at 1.09, 1.10 or around that area, it just became a straight lay because the price moved so far that. even with hedging, you would have got the majority of your profit anyway.
Factors at play…
We had the order of the card and seeing Willett go through, as well being only three from the lead at any one particular point or another meant it only needed a little mistake from Spieth while playing through those harder holes to be able to bring that trade around.
If you look at the set up of it, although it is easy to look at things retrospectively, it was pretty much the perfect setup.
If you're looking at holes 4 to 8 and then again, at holes 10 to 12, then 16 to 18. These are holes where traditionally players have drop shots repeatedly and there are areas in between those where they do or they are more likely to gain shots.
It's around these periods that you want to get active and involved in the market. With players in front of him having already gone through that, it was a good opportunity to lay Spieth at very, very low odds.
What reveals itself from this? The perfect golf trade!
That's, simply put, the almost the perfect trade that you could possibly do in golf. If you attempt to do this at other other times, you have to factor in what's happening elsewhere on the golf course and who's doing what and when.
But on this particular occasion, as he came around to the harder part of the course, getting in a low lay on Spieth was quite clearly an option.
Why?
Because there wouldn't have had many downsides and if he did make a mistake, you would have huge upside. That is, in fact, what happened, much to the delight of Danny Willett, who became the first British player to win at Augusta for some time.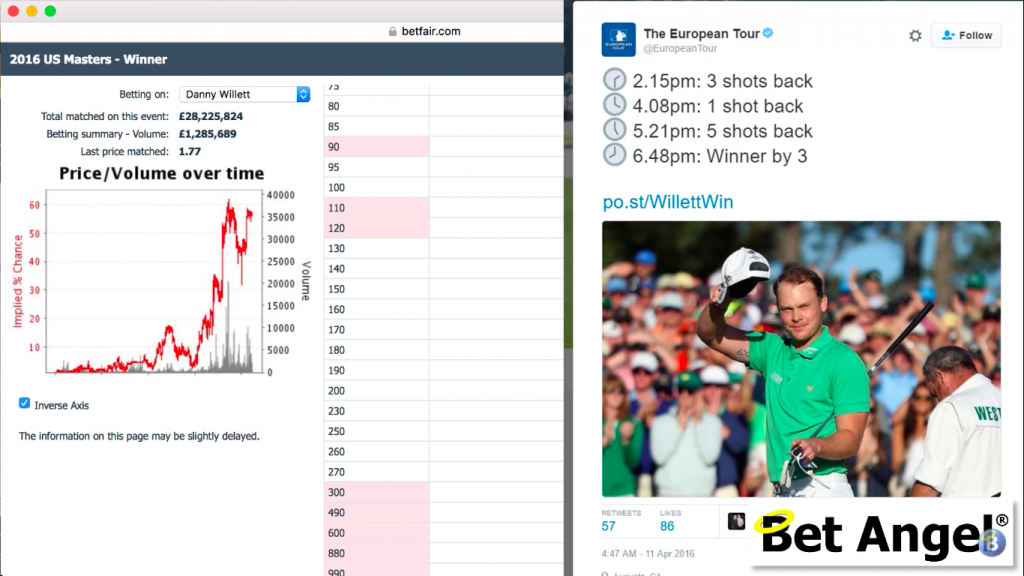 This example is a great way of illustrating this sort of activity that seems to only happen in a golf tournament. Using the knowledge we have learnt from this 2016 example allows us to see how we can use our knowledge of the course and how players react to certain holes to our advantage.
Golf tournaments can produce some wonderful opportunities and finger crossed that we see some more this year!