Automated trading can save you time and money or find and execute trades before you had even seen it manually. If you are looking to fully automate your Betfair trading, then Bet Angel's Advanced Automation gives you all the options and tools you could ever need and what's more, this requires no excel or programming experience.
It's really easy to automate your favoured Betfair trading or betting strategy and creating your own automated betting bot is now easily within reach!
Take your Betfair trading automation
Once you get above some standard automation, you will learn that the Automation in Bet Angel allows you to do anything from triggering a simple back or lay at a specified time, right through to some really clever rules requiring some complex logic. It even has the ability to trigger a rule in one market based on several conditions being satisfied in multiple other markets.
There are plenty of blogs detailing putting together more complex and connected automation files and there are 100s of ready-made rules files you can download from the Bet Angel forum.
Simple yet Powerfull
The purpose of this blog is to show you an example of how you can use just a single rule within in automation file but still apply that file to ALL the days markets, and with just a few carefully selected conditions the rule will filter out and trigger on only the markets types you require it to target.
There are several very useful conditions in Bet Angels Advanced Automation which can be used, one of the most flexible particularly for racing traders and the one were focusing on here is the 'Text Comparison' condition.
Put simply this is used to filter markets name by text, allowing you to easily target a rule to specific courses and race types etc, ie, H'cap, Listed, Grade races, you could also combine that with an other condition like the' Race Distance' condition and you can really begin to pinpoint the races you want your rule to hone in on.
Greyhound markets are very well suited to automation largely due to there being around a 100 taking place each day in the UK alone, a popular betting and trading strategy among Greyhound automation traders is to look for biases, this could be when the fav is running from specific traps at specific courses and even in specific grade races.
In this example lets assume you've looked at some historic greyhound stats and have found what appears to be a bias when the fav of certain graded races is running from trap 5 and at specific tracks, this might appear complex to set up but in fact its remarkably simple using Bet Angels Advanced Automation.
Creating a Rule using 'text comparison'
On the first part of the Rules Editor (the General Tab) we can select the rule type, ie, place a back bet, the time its to trigger and the selection.
In Greyhound markets the trap number a dog is running from always correlates to the Betfair row number, so we can apply the rule to Betfair Row 5 knowing that will be the dog in Trap 5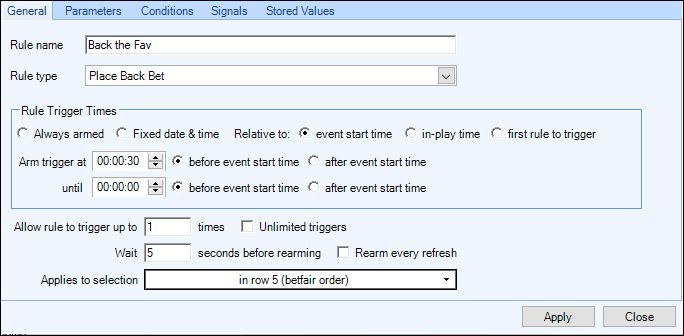 Moving onto the Parameters tab you can set you stake, and the price you want the bet placing at, you can also configure any offset betting, fill/kill commands etc.
Next we move onto the Conditions tab, the first condition is to tell the rule to trigger only if the dog in trap 5 is the fav, to do this we can use a 'Relative Odds Condition' and test the back price of this selection is less than the 2nd fav.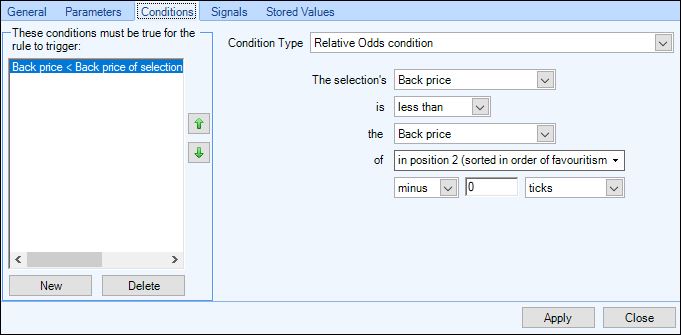 Now we need a 'Text Comparison condition', with this we can tell the rule to only trigger if the text we add appears in the market title, so here we can begin creating a track filter.
NB, not matter which sport you are applying a rule to its important to check how text/wording appears in the market titles, for Greyhound markets Betfair always use abbreviation for the track name and its these you need to enter (one per line), in the image below I'm telling this rule to only trigger if the market name contains; Bell Vue, Crayford, Monmouth, Nottingham, Peterbrough, Romford, Sunderland and Swindon.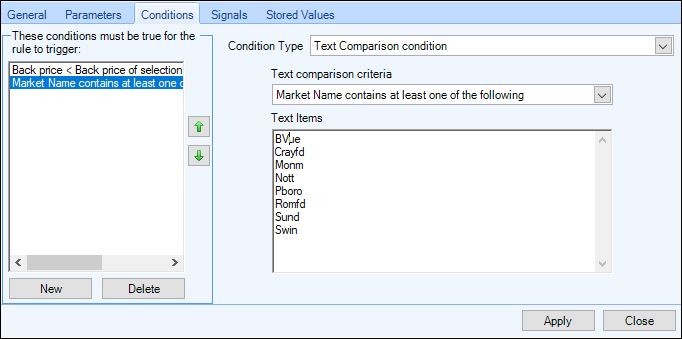 Now we need another 'Text Comparison condition' this time to filter the race type the rule is to trigger on, here ive used the condition slightly different and told the rule NOT to trigger if the race is a 'B' grade or any 'A' Grade races between the grades A7 and A11.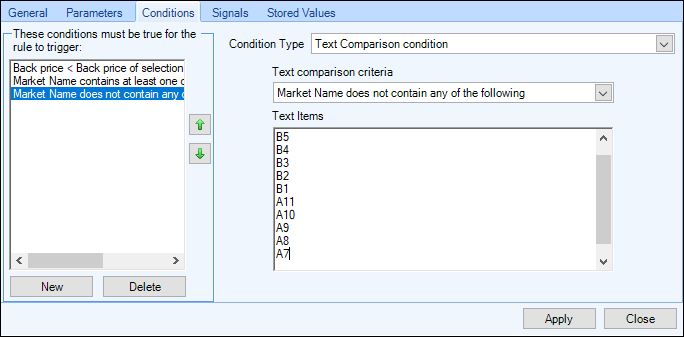 And that's it done, as simple as that!, now just click the 'Disc+' icon at the top of the window to give the automation file a name and save it.
Using the Rules File
You have now created a rule that with one click can be applied to ALL the Greyhound markets each day, and it will only trigger on the Fav if it's running from trap 5 at Bell Vue, Crayford, Monmouth, Nottingham, Peterbrough, Romford, Sunderland and Swindon and also the race grade is NOT a 'B' grade or 'A' grade between 7-11.
The quickest way to add the days greyhound markets to Guardian is to enable the 'Sidebar' in Guardian and on the dedicated 'Racing' tab tick the 'UK Greyhound Markets' box.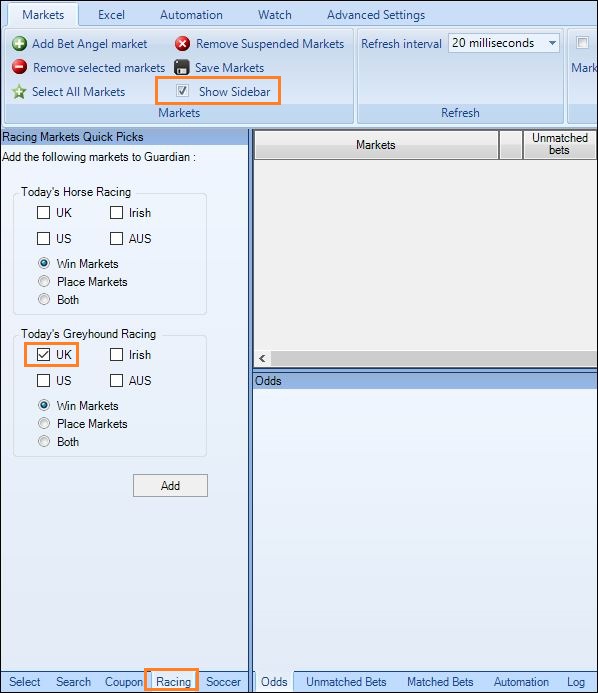 Then from the 'Automation' tab at the top of Guardian click on the 'Automation' tab then select the rules file you want to use and finally the 'Apply Rules File to all Markets' button.

If you would like to download a full list of abbvaitions used for Greyhound track names I've shared them on this post in in Bet Angel forum which also contains a link to a ready-made rules file similar to the one detailed above.
As you'll be able to see this one condition can be used in so many ways to really filter down to specfic levels of which markets a rule can trigger on, and remember there's nothing to stop you adding further rules to the same automation file using the 'Text Comparison' condition againg to filter for different information from the market titles – or you could add/use any of the other 20+ conditions avaliable to you.