Bet Angel is highly customisable Betfair trading software. You can pretty much modify anything to suit your trading style and strategy.
There are many reasons why you may want to do this, but we have a good reason at the moment for sure. The huge volumes being matched on the next US president market!
With no 'official' end in sight to the election and Trump bunkered down in the white house till forcibly removed, the volumes are creeping up to astronomical levels on the market. This can cause a problem on your trading screen as your software may not be able to display them correctly.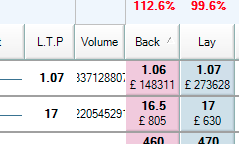 We see this with the default settings on Bet Angel on the once click screen. You can see that the volume numbers are truncated on either side. This means you can't accurately know how much has been traded on either candidate.
But help is at hand!
In case you were unaware, you can add new custom columns to Bet Angel on the one click screen that can do all sorts of clever things. But you can also add or remove columns at will and move them around the screen to create your perfect custom layout.
But you can also change their specific appearance. You can change the font size, the height of the cell and any gap between the cells and you can also resize them.
Resizing is switched off by default so you don't accidentally re-size the grid layout and distrupt your trading screen. But to switch on the resizing simply go to 'Settings', then 'Display' and you find the options you require listed on that sections.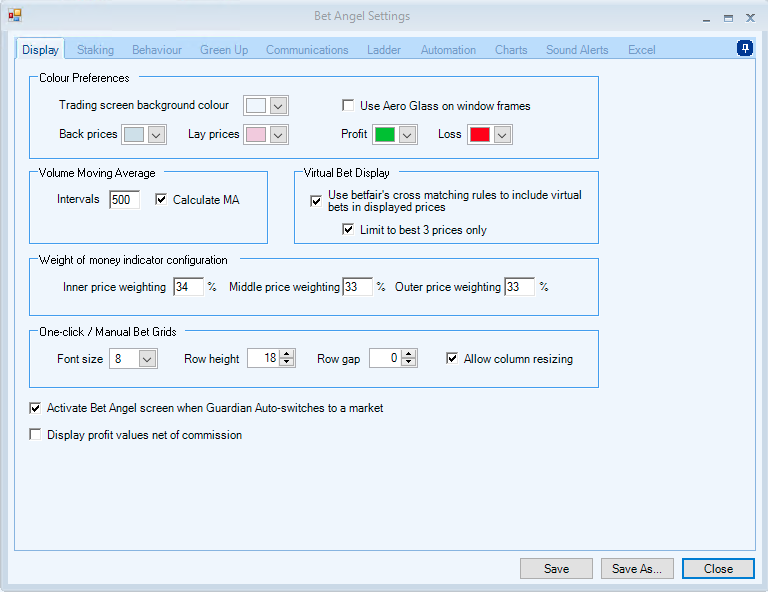 Once you have ticked 'Allow column resizing' you can then adjust any of the columns to your required size. Untick this setting again to 'fix' the column widths you have selected and they 'save' or 'save as' option to create and name these custom settings. Doing this will allow you to revert to standard settings or your new settings in a couple of clicks.
Changing the column size is helpful for a number of reasons, but on this occasion we can now see this market in its full glory!