May traditionally brings the end of the football season. Another season is over and many hopes have been dashed and many expectations raised for the new season.
And as you will know, I am a Southampton fan and have been since I was a boy. A legacy of my Dad's friends taking me to matches, then sisters boyfriend's. It was where I was pretty much brought up and learned a lot about life. Since then I have been going when I can.
Venting at some players running around a pitch, the opponents or a referee is a great stress reliever (generally). I'm sure most of you know the sort of pain and suffering you go through if you're not in a top-six side and. But I still enjoy it and I still go.
When you are at your peak, relegation looms
I've got a story about relegation for you that you may not have heard and it also contains a bit of irony as well.
I remember during the 2003 F.A. Cup final, turning to a friend of mine and saying, you know what, we've got this. We're in the FA Cup final. We've finished quite high in the league. There's absolutely no reason why we shouldn't remain here for a long, long time. And then what happens? Two years later, we were relegated.

So when I was at the EFL Cup final a few years later, somebody turns to me and said, you know what? Were getting higher and higher in the league were in Europe and were in the EFL cup final. We are now a guaranteed sort of top-six side.
I just told him to stop right there. 'Football doesn't work like that, it wouldn't surprise me if next season we end up struggling and get relegated.' And they all laughed. But it was the thought of what happened to us when that was last said that resonated with me at that particular moment in time.
My life analysing football matches
So, in 2005, two years after Southampton appeared in the FA Cup final in 2003, they were relegated. Something very unusual happened and it was a story that I thought I'd recall for you because it's quite funny really.
As you know, I've spent years looking at understanding, modelling, profiling football matches and trying to get a real handle on exactly what creates a goal, how that gets played out and how I can use that in order to be able to forecast matches better. So it's something I've done for many, many years. I started doing that in the 80s and I've continued to do that analysis ever since. Honing and refine what I know about football and how to forecast it.
But one of the unusual things about when Southampton was relegated in 2005, is that I actually successfully predicted a long time out. What actually happened was that I predicted their demise way back in January that year. But not in the way that you would expect!
My life analysing football matches & my Dream
Back in January 2005, I suddenly woke up with a start.
Southampton had been in the top flight for many, many years. I had a terrible dream that night that Southhampton had been relegated. It was so stark that it woke me up and so vivid that I made a quick note of what the dream was all about.
The dream was about Southampton being relegated. I remember that crushing feeling as I stood there at the end of the match coming to terms with that fact. But not only that I actually played out the whole match in my head, and I could tell you what happened, when when the goal was scored, who scored it and the fact that Southampton were relegated because of that.
Now, I thought nothing of it. It was just, you know, it was a nightmare. But I wrote down this information and really thought nothing of it. But fate intervened and somebody on the Betfair forum posted up a message saying about people who have predicted the outcome of sporting events through dreams. It was called 'I Had a Dream' or something like that. But again, I thought nothing of it.
Because of the role that I have now, I don't tend to go to matches that often. I can only attend a match if it's midweek or a Sunday. I hadn't really thought much about the end of the season at that particular point and about the prospect of relegation. But as we got nearer and nearer towards the end of the season, it became apparent that probably we were going to be in a bit of a relegation battle.
Southampton near relegation and fate intervenes
But again, I didn't think much of it because I didn't have a season ticket and all of the tickets were allocated for the last game of the season. So I wasn't going to go anyway. So again, no thought ever entered my head about what had happened way back in January.
However, I get a phone call out of the blue from an old school friend who says he can't go because his Dad's was ill. Would you like my ticket? You can go and watch the last match of the season!
So I said to him rather jokingly at the time, well, okay, I'm more than happy to take the ticket off if you, Paul. But I had a really weird dream about how I watched Van Nistleroy score in the sixty-third minute and Southampton were relegated because of that. Of course, we both had a laugh about that. So I said, I'll take a season ticket, but bear in mind if this comes true, don't blame me.
Making the prediction public
Upon receiving the ticket and reminding myself about the dream, I went on to the Betfair forum and actually posted up a message before I went to the match detailing exactly what I saw in the dream. Not the use of a PDA, iPhones had not been invented then!

When I turned up to the match I was in the exact location I had dreamt and things started to get really weird. Everything was panning out exactly as expected five months earlier when I had that dream in January. As the results from around the country started to come in it was clear Southampton must win against Man United at home to have any chance of a last-minute escape.
As the clock ticked forward in time I watched nervously as it approached 63 minutes. Manchester United, not caring about our plight, strode up the pitch with suitable authority. The ball was sent up the pitch then out to the wing for Alan Smith. I glanced up at the clock and Smith strode forward and sent the ball over the Southampton box. It was on 63 minutes! Van Nistelrooy rose up at the far post, his head met the ball and the ball hit the back of the net. That moment will stick in my mind forever!
So it turned out that things had happened exactly as I dreamt, five months earlier in January. The Betfair forum completely exploded, because people had seen the message and then also watched it come true. The post pretty much went viral and all of a sudden the BBC picked up on it and wanted to interview me about exactly what had happened.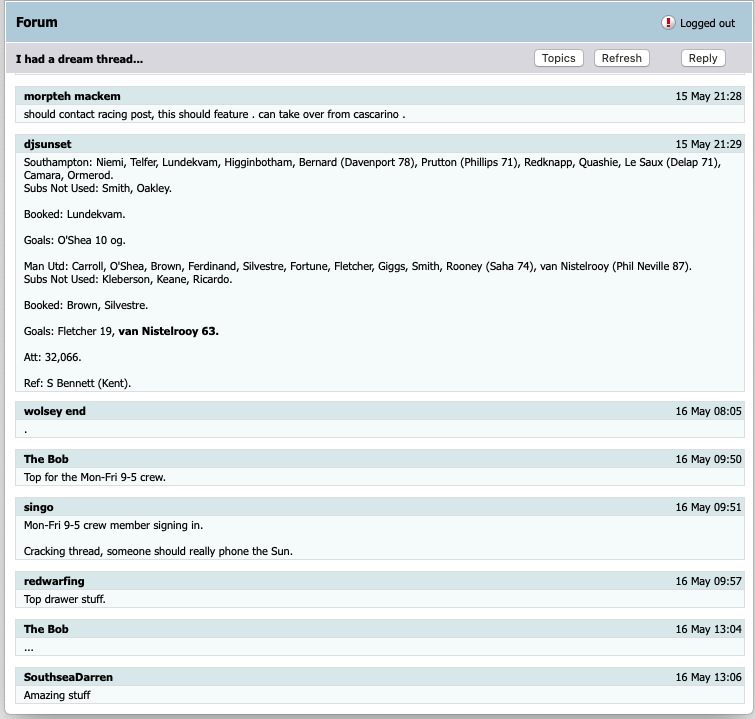 Why did it happen?
Of course, this is not the way that I recommend that you bet on a football match!
I know there are stories of this before. But I do wonder whether because of my analytical ability, my allegiance to Southampton and all of the stuff that I've done over the many years, made a contribution. I wonder whether that had some impact in terms of my brain working overtime to figure out what the score could likely be. I didn't even know when I had the dream that we're playing Manchester United at the end of the season. It was only after waking up and having the dream that I went to check and see what the fixture list was.
You also couldn't rule out that there are other factors at play. What about the moments where things didn't turn out, forgotten thoughts of no consequence. Would I have paid so much attention if the outcome wasn't so significant? All these things can be thrown into the mix.
But ultimately, I successfully predicted five months in advance that Southampton would be relegated on the last day of the season. Not only that but the score of the match, who the scorer would be and the time of the goal. If that were not coincidence enough, the fact I was there despite having no intention of going, added up to a remarkable set of coincidences.
Maybe in a parallel universe, it didn't happen. But in this one, it definitely did!