How the market behaves
There are two key things about the way that the Grand National market works that should define your approach.
The first is that it's a highly competitive handicap.
Handicap races are where horses carry weight to balance out their chance of winning. Not all handicaps are competitive, but the Grand National is. Forty runners with a favourite priced at 10's means no one knows who will win. Which is precisely what the handicapper wants.
Therefore money will be spread out amongst the field, and there is generally no direction in price. A horse will not suddenly get more or less favourable, and therefore prices will trade in a narrow range. This makes it perfect for scalping strategies or variants thereof.
Basically, you would go for one tick at a time trade. Anything above that, you will not get filled and won't be able to repeat your trade.
There is an exception to the rule, however.
When there is a lot of press interest in a particular horse, for any reason, betting activity on that horse will increase, and it's pretty likely the price will get pulled in. This tends to happen at the top of the market.
So if you want to avoid a housewife favourite, just drop down the field a little. There is going to be plenty of money there.
Volume
Not a great deal happens in the market the days before the race; money dribbles in slowly.
However, from 8am on the day of race, the market starts to liven up and then explodes in the hour before the big race.
The Grand National is one of a tiny number of races where you can trade all day long, and this is the key to the big numbers you see me get on the Grand National. I'm not using a significant stake and guessing direction. I'm just making lots of trades, some of which are entirely non-directional.
You can see this from the following graph, which plots my P&L on the race over the day. I start by putting in orders in places waiting to fill, so I will often be at a loss on those early orders, but as the volume picks up and they fill, I move into profit.
Then as the volume picks up, so does my P&L. It's gradual accumulation till I decide to stop.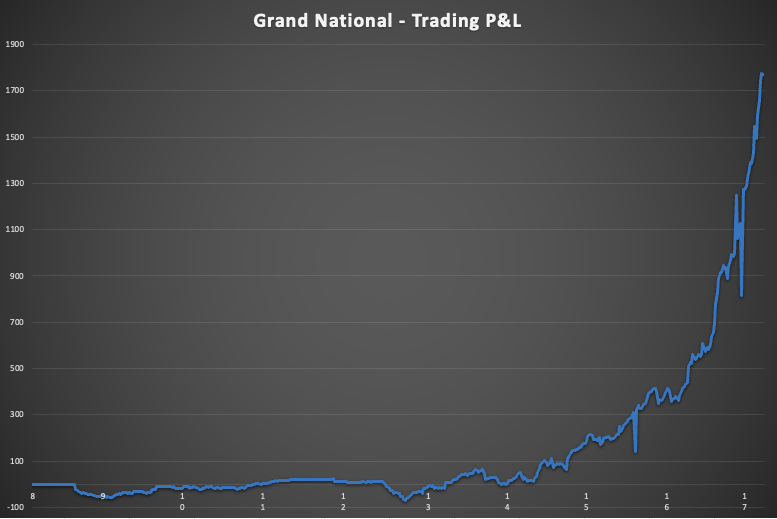 Timing
As I have mentioned, this is a rare market where I can trade all day. But there comes a natural point where that has to stop.
You will need to pick a trading window you are comfortable with.
During the day, the queue sizes are large but tend to get 'eaten' through. The front of the market can be completely stuffed up with money waiting to match. There are several runners where the amount remaining to be matched will be disproportionate to the money getting matched.
Remember that volume is not liquidity. You want to avoid runners with mismatched queue sizes.
When we get closer to the race, things can fall apart on the market as people hedge and Betfair starts to strain under the weight of activity. So I get much more cautious as we enter the last ten minutes, and I'm entirely out by around five minutes.
If you want to play with fire, dive into the market from then on. But I'll be cross-checking my automation and making sure I'm all out at that point.
Making money
I'll often point out that you don't need a big bank to trade horse races as you can put through more than one trade.
However, the big prices at the Grand National mean that if you lay first on a trade, you will need many multiples of your stake to open that trade.
That will be frustrating as you could run out of money relatively quickly and have to wait to close your trade to go again. You may also find, in your account section on the Betfair website, that your exposure is limited, meaning you can only trade up to a specific exposure limit.
There isn't an easy way around this. I discovered it when I first started trading the Grand National, and it was just a bit of time for me to work at higher levels. But if you are gunning for something big, set your expectations reasonably.
Summary
The Grand National is a unique trading market, completely different from traditional horse racing.
As you only get it once a year it can be difficult to understand, but with a sensible approach there is no reason why you can't profit from it.