Tag: 2000 guineas
Jollygreen has provided an overview of this years race and you can see my own thoughts from the video I recorded earlier this week further down this post.
The racing fraternity in the UK always look forward to this day, the first of the Classics. I often find they are also pretty tricky to solve; unless Frankel is in the line up! From a trading point of view, paddock judges can have an influence on market movement. There is always …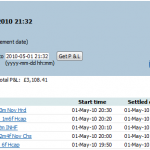 The weather is looking great this weekend for the first real big trading market of the flat season, the Guineas. Good weather on a bank holiday weekend, I must be dreaming!
I've always enjoyed the Guineas meeting and have had some fun and game over the years on it. I'm really interested in how it will perform this year as we've spotted two major changes in the market between this year and last. So this weekend is turning into an …
Or a Guinea, 2000 of them were up for grabs in 1809 when the 2000 Guinea's was first run at Newmarket. The race should now be called the 380,000 Guinea's, but that doesn't have the same ring to it does it?
It will always have a special place in my heart as it was the first race I traded while lounging by a swimming pool! Early on in my trading career I was on my travels, but still wanted to …