Betfair tennis trading
Tennis is know for it's wild variability. The scoring system lends itself to remarkable comebacks and seemingly dominant players snatching defeat from the jaws of victory. How does this translate into a profitable strategy for a Tennis trader?
I've always wondered who invented the scoring system fand it's rather really bizarre oddities. But when you are actively Betfair trading this is more or less exactly what you are looking for on the betting exchanges. High volatility price movements mean plenty of opportunities to enter a trade at a reasonable point or exit for a profit when it seems lost.
However, I have to credit Tennis matches for helping me achieve a breakthrough moment in my trading career. I remember my early attempts to trade Tennis were just hopeless. Everytime I thought a player had won a match I'd back him at short odds only to see them lose. The opposite would happen too!
I mean tennis players were whacking the ball all over the place with ease, then suddenly there were not. Holding their service game one minute then suddenly two breaks of serve later their opponent is about to win the set. It was tough to find decent entry points on Tennis markets. Or so it seemed!
It was then that I realised I need to just think differently about risk and taking a position in a match. I needed to completely change my mental attitude from looking at a sport from a spectator perspective to a trading one.
My favourite Tennis trading strategy
The problem I saw with Tennis is that it was so variable, it seemed almost unpredictable at times.
Some matches were obviously skewed towards certain players. A higher ranked player very often runs out the winner against a player that is much lower down the rankings. I've done a separate blog post on how a very tiny amount of skill can make a big difference in a match. But if you had a Novak Djokovic against Dan Evans, then the price will obviously be very short for Novak.
So I flipped the problem upside down and started looking at a strategy that would benefit from that volatility. The key thing to know here is that laying two selection at decimal odds of 2.00 would break even, any two values below that would profit.
This also works the other way around becuase reciporacal odds are in play in a market with a binary outcome. To put this in simpler terms, if you back a player at 1.50 you are effectively laying the other player for odds of 3.00. So laying two players below odds of two results in a profit and backing two players above odds of 2.00 also has the same effect. As long as your staking is correct!
The most amazing Tennis match ever
On June the 24th 2010 we were treated to the most amazing match ever at Wimbledon, the "endless match".
Wimbledon is known for it's grass surface and this makes it perfect for servers. The ball bounces low and fast and this makes it hard to return serve. When Isner and Mahut took the court at 18:13 on Tuesday 22nd June they had no idea that the match would eventually finish on Thursday the 24th June at 16:47!
The final set ended up 70 to 68 in favour of John Isner. Slightly above the normal 13 games, you see in a competitive set. To give you an indication of how bizarre this match was, the final set alone was longer than the previous record for the longest match in its entirety.
The match ended up setting records for the longest tennis match ever played, the longest set ever played, the most games in a set, most games in a match, most aces served in a match, most games won by a winning (and losing) plater, most points won and most point in a match. Other than that, it wasn't that at all special!
I captured loads of data on the match as is progressed, knowing there was something special going on that may never be repeated. I was right to do so as subsequently rules were changed to avoid these marathon slogfests at the grand slams.
From a trading perspective flipping from one player to another to trade it was realtivelyl straight forward until tiredness started to kick in much later. Even then you could see the market favoured an Isner win.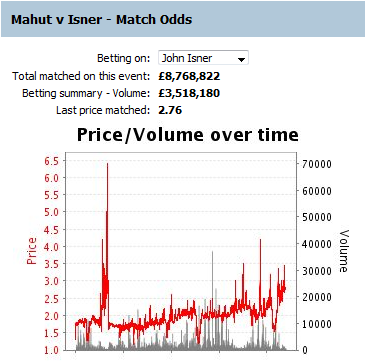 Double bubble – A slam dunk Betfair trading opportunity
The best thing about the longest Tennis match in history is that shortly afterwards it present another EPIC trading opporunity.
When Isner stepped out for his next match against De Bakker he was visibly tired, despite the tournament giving him a rest. It didn't take long for his odds to drift and a shattered Isner to duck out of the tournament. Even if you didn't trade the first match. The second was a bit of a slam dunk trade.
For these reasons I'll never forget trading Wimbledon 2010!