So today we reach the Oaks on Friday and the Derby the day after when the summer racing really starts to step up a gear. The start of June means that my biggest week of the year, Royal Ascot, is just around the corner. But it also 'celebrates' the birth of the Betfair exchange, here is the story of Betfair's launch.
Betfair 'officially' launched on the 9th June 2000, but the 'unofficial' launch came with the very first market.
The Birth of the Betfair betting exchange
If you are a Betfair newbie you may not know that the Oaks at the Epsom Derby meeting was Betfair's first market way back when they started in June 2000. Horse racing was the very first sport to be traded on the Betfair betting exchange.
The launch of the Betfair betting exchange went pretty much unnoticed, but things would never be the same again. At the time, bookmakers completely missed the significance of what had happened. Slowly but surely punters started raving about this new gambling website where you match bets. It seemed a strange and alluring world, but the proposition was simple. "Hey, you can place a bet here and you will win more". That was the key message between the gamblers which drove traffic to Betfair.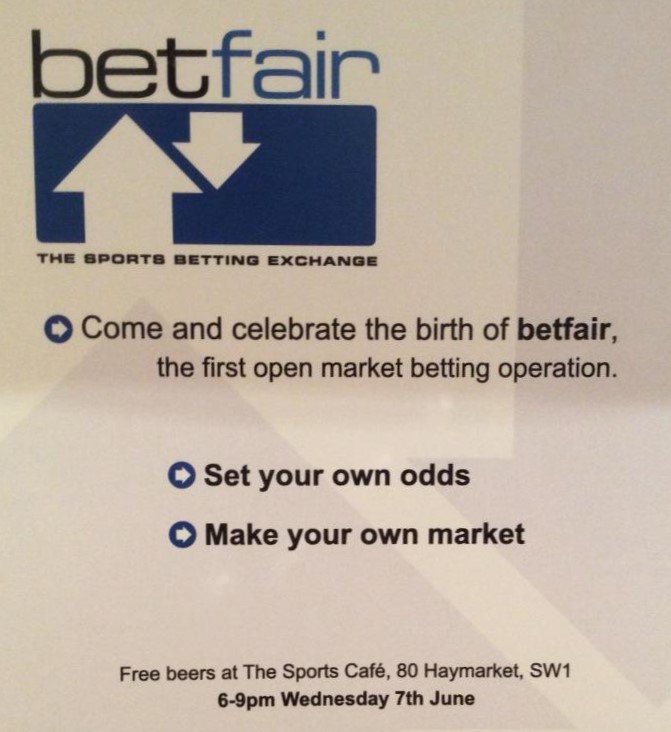 Online betting was very different from traditional high street bookmakers. There were no bookies offers, free bet offers didn't exist, no minimum deposits, no restrictions, bets were always settled and card deposits were the only payment method. The betting exchange didn't even use fractional odds, it used decimal odds betting. Sometimes progress doesn't come from incremental progress, it comes from a different angle. At the end of the day the light bulb wasn't invented by improving the candle.
Betting exchanges were very niche to start with, but eventually online bookmakers followed, but it would take years before the likes of William Hill would embrace the online revolution.
It didn't take me or a few others long before we realised you could not only bet on a sporting event but trade it.

How I became one of Betfair's first customers
Betfair wasn't the first ever betting exchange. There were other betting exchanges around most of which I signed up for. I didn't actually like Betfair's interface at the time as it was a bit alien and uncomfortable to use. But when Betfair sprung to life, I also signed up with them. Their launch was on the 9th June and I joined ten days later.
In the late 90's I was working in the Internet industry. I've always been an early adopter and years before people were really into online communities I was an active user of Prestel. When Prestel was sold, I became an Internet user via Compuserve. I still remember my log-on user number all these years later. They had an Internet gateway and I started dabbling. Bear with me a second, this story will all make sense!
Wind forward to the late 90's and, thanks to being an early adopter, I was working for an Internet service provider. I used my time there to explore everything that was going on in the industry and would attend a lot of industry events. One of them was a meeting not dis-similar to an informal 'Dragon's Den'. It was there that I learned about the concept of a betting exchange.
So I just started signing up to all of them to learn more. Given my interest in sports and my previous gambling heritage, it sounded right up my street! The rest, as they say, is history.
The Betfair betting exhange is launched
Mark Davis, a former Betfair director, has reminisced about the launch of Betfair on his blog. I think Mark, as an insider, gives a better insight into the early days at Betfair better than I can, so I have linked to it. I had still to fully see the opportunity then, though I could sense something was afoot.
There are some interesting bits in there – "From memory, I think about £3,400 was matched." Mark says about the first ever market. I wonder if they could have foreseen what the site would look like all these years later? I bet you they didn't think the home page would be a sportsbook!
Mark goes on to talk about the launch – "Many people remember our mock funeral which made the front page of the business section of the Sunday Times, when we paraded a coffin around Finsbury Circus and its environs proclaiming, "the bookie is dead – make your own market!". Far fewer remember the demo we arranged outside the Sports Cafe, where a rag-tag-and-bobtail group of actors donned mackintoshes and flat caps, and held up placards saying "stop the launch"…… The Sports Cafe launch was the 'official' launch, but it wasn't a whole lot more successful than the private one." – Read the full story on Mark's blog.