If you want to join the growing number of people taking advantage of live racecourse information, here is how you would set up Bet Angel to receive data from Total Performance Data.
What do you need to get data directly from the racecourse?
The first thing is to make sure you have at least version 1.58 of Bet Angel Professional, you can download the latest version here.
Next, you will need to choose an appropriate licence key from Total Performance Data (TPD), the provider of the racecourse data. You can choose a plan from their website here.
You now have the essentials you need to start receiving data from racecourses. Check out this list of racecourses that currently transmit data. You will only receive data if you are pointed at these racecourses.
Key settings in Bet Angel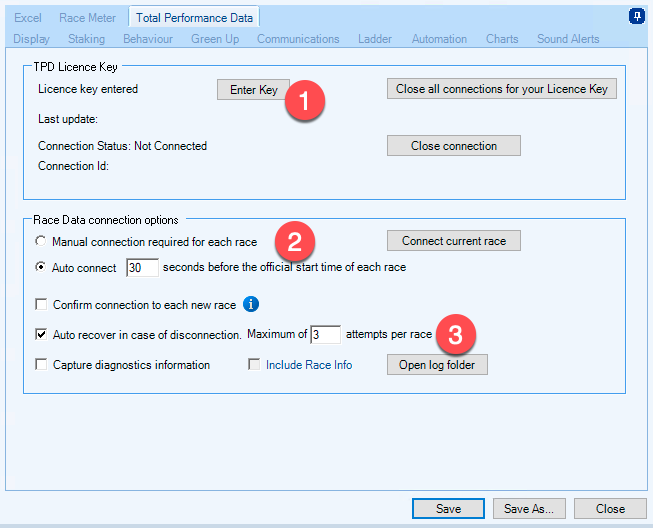 There is more than one settings area in Bet Angel so make sure you visit the 'main' settings area and locate the Total Performance Data settings.
Section one
This is where you enter the licence key that you will be issued by TPD when you have signed up to one of their accounts. Click on the 'Enter key' section to enter your key. This will be saved for future use. You can also close all connections or this individual connection when in this section.
You will get confirmation that you are connected and further information on what race you are connected to.
Section two
In this section, you will determine how Bet Angel will connect to each race. Licenses from TPD are priced according to how many markets you want to receive data from. This can vary from just 20 a month to an unlimited amount.
To ensure you don't 'burn' through your allocation you can dictate how Bet Angel connects. You can connect each race manually, auto-connect just before the start of the race and also set if you want to confirm your connection.
Section three
The final section allows you to ensure you get a connection by retrying until a connection is established.
If you have additional errors or something is not working correctly we have also included a section where you can capture and send diagnostics information to us if required. Hopefully, you will never need to do this. But it's there.
Getting Bet Angel to display data
The final thing you will need to do is to get Bet Angel to display the data you are receiving from TPD.
To make this really easy for you, we have created a large number of settings and customisations that you can simply import and use in Bet Angel. To learn how to do that, visit this blog post: –