The very latest version of Bet Angel Professional, version 1.58, now includes integration with live GPS racecourse data from Total Performance Data (TPD). We have also significantly enhanced our in-play trader tool and added a race progress meter.
The latest version of Bet Angel combines existing cutting edge features, with new ones aimed specifically at helping in-running punters and traders get an edge. These latest enhancements will significantly improve your ability to be able to profit from in-running betting on horse racing.
Bet Angel now provides best of class in-running features
Bet Angel already includes a huge range of customisation that will allow you to display and act on market data right on your favoured trading interface. Additionally, you can use the dedicated 'In-play trader' to watch and trade a horse race with just a click of a mouse via a unique graphical interface.
You also have access to a custom keystroke editor you where can quickly and easily place an order with just the touch of a keyboard or through a gaming device. This can be done while watching the race or data from it, in a manner much faster than somebody using a point and click interface.
Combine these features with additional ways of placing a bet or trade manually, semi-automatically or fully automatically. TPD data is available to use via Bet Angel's advanced automation, meaning all the data you need can be integrated directly into your favourite automated Betfair trading strategies. No coding is required!
This latest enhancement to Bet Angel will take your in-running betting to a completely new level!
Total performance data (TPD)
Working with technology and engineers from the world-famous Cambridge tech cluster, TPD has deployed the latest GPS / GNSS technology at racecourses to provide real-time horse racing tracking. We have been working with TPD for a number of months to bring this technology into Bet Angel.
In the UK TPD predominately work with ARC racecourses to provide data. You can see the full list of the current racecourse on their website.
During a race, real-time positions are transmitted within fractions of a second; facilitating speed, stride length, sectional times and split time calculations, all while the race is in progress. This allows in-running punters and traders access to accurate live data from each horse as it runs a race.
There is no need to guess at a horses position, speed or performance at key points in a race, you can now have this data presented to you right on your trading desktop. This will give you unparalleled ability to refine, act on and significantly enhance your ability to bet or trade profitably in-running.
Key settings for this section, now have a dedicated area in the settings of Bet Angel version 1.58.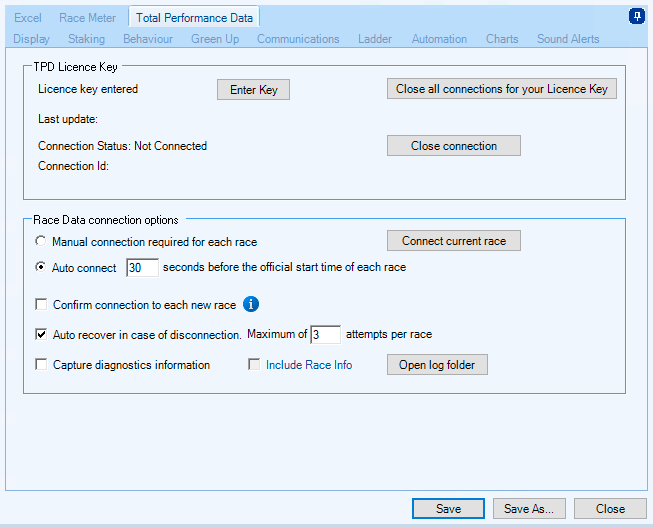 To enable the Total Performance Data feed, you will need to enter a licence key purchased from https://www.tpd.zone/
Options are available to manually connect a race to TPD (by using the button on the settings screen or by defining a keyboard shortcut) or configure the settings to auto-connect before each race starts.
If you have an appropriate client key from TPD already, there is no need to purchase an additional key for use within Bet Angel. Just enter your key and Bet Angel will use your existing key.
Race progress meter
A new addition to this version of Bet Angel is the Race Progress Meter. The aim of this feature is to give you a very accurate representation of how far a race has progressed.
The race progress meter can be configured to use your own standard times imported through automation within Guardian, the default settings based on distance, or direct from the racecourse using TPD data. The final option will give you exact and highly accurate information on how far a horse has travelled and a very accurate measure of how much distance is left in each race.
IMPORTANT NOTE: If you want to see how fast the feed is, it is normal for Bet Angel to show progress on the race meter on a TPD compatible race, BEFORE, the race has actually been switched in-play by Betfair.
The race meter will appear on your One-click screen, Ladder interface and, of course, the In-Play trader tool. The in-play trader tool includes additional visualisations to allow you to 'watch' the race and place a trade or bet simply by clicking in front or behind the horse as it "runs" to the finish line.
There are a number of options available on this tool to allow you to modify its presentation and behaviour.

Fully automate your in-running betting or trading
A major feature in Bet Angel that has been developed significantly since the first release is Advanced Automation, which is available within Bet Angel's Guardian feature.
The Total Performance Datastream provides Bet Angel with many new data items that can be used by Automation (and used by the user interface or Excel via Stored Values). This means your automation can now 'see' where a horse is on the course, how far it has travelled, how fast it is running and its position relative to other horses.
It will completely transform all your in-play Betfair trading strategies. They can now act on live data from each race, rather than just an estimate or price.
The data items are available both when setting a Stored Value (or History List) and also when using a Stored Value condition. Please note: Latitude and Longitude have been included in case you want to pass them to Excel and integrate with a mapping add-in.
The 'Total Performance Data' condition can be used to test if a racecourse is supported by TPD, test if certain Par information is available in the stream for a course, and to detect when new information last arrived from the TPD stream. E.g.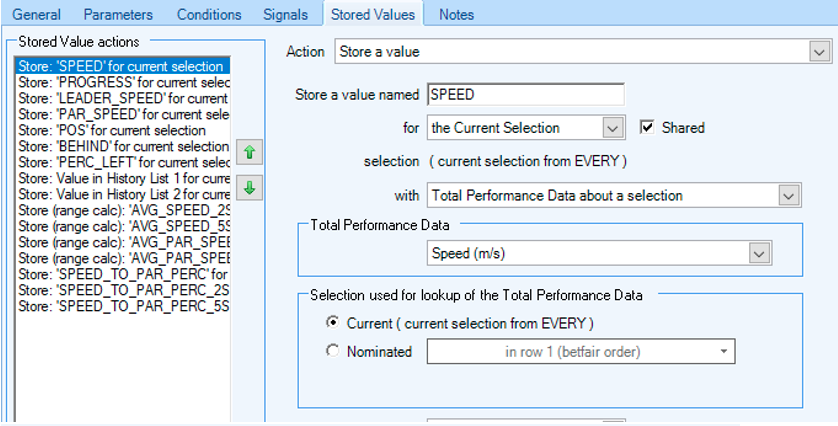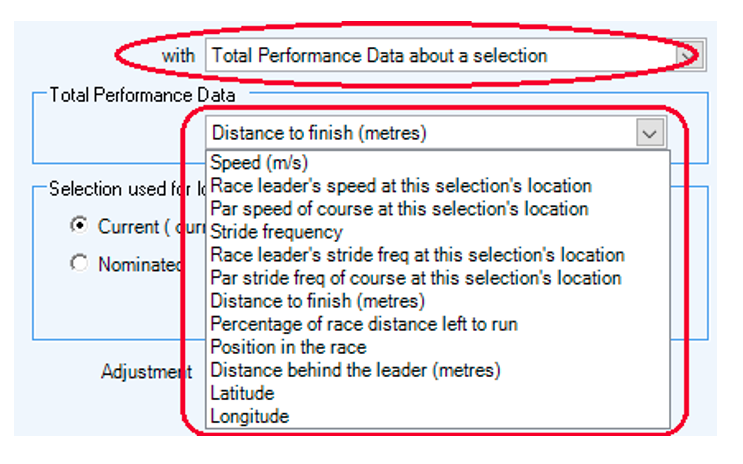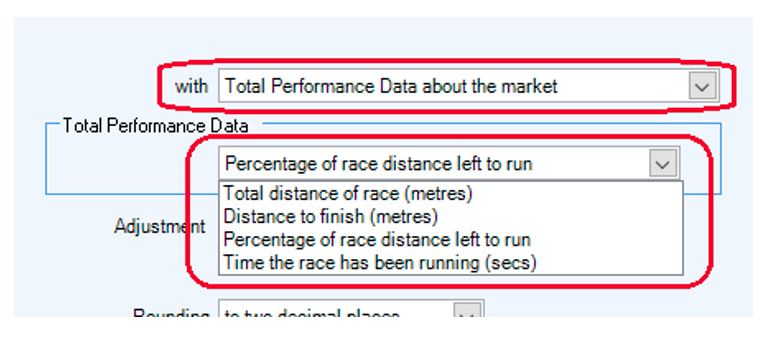 Enhancing your trading screen with live data
Recent enhancements to Bet Angel allow you to place data on or directly within your favourite trading screen. This means key information will appear exactly where you need it and where you can act on it. In addition to this, we recently added conditional formatting to allow you to not only get key information but colour code it as well.

In the above example, the One-Click screen is displaying custom columns that have been populated by Automation. The Automation rules have been used to populate Stored Values derived from Total Performance Data and those Stored Values can be used throughout Bet Angel including on the One-Click screen.
Value-Based Colouring has been applied to some of the columns to:
– highlight the runners in 1st, 2nd, 3rd position
– highlight runners that are close to the leader
– create a heatmap of the runners speed compared to the course par speed (calculated by dividing one value by the other)
– Automation's History List and Range calculation features were used to average those values over two and five seconds to highlight when a runner is maintaining a good speed.
Basically, the sky is the limit with all the features in Bet Angel and all the live data from TPD!