Where to find it
Fire up Bet Angel and in amongst an amazing range of settings, you will find the communcations tool.
To locate it click the spanner in the middle of the main trading screen and up pops all the settings you can modify in Bet Angel in there you will find it undr the communcations tab.
At first, this all looks a bit bamboozling. But inside this tool is the key to optimising how Bet Angel communicates with Betfair. It's been a feature that has been in Bet Angel for a large number of years and it's often overlooked but is a key feature.

The concept
The key concept of this tool is to get the fastest, slickest and most optimised connection to Betfair via the Betfair API specifically for your needs. But its roots are much deeper, they go back to when Betfair trading software was invented and the tool itself is also a reflection on how often we update the software.
Before the Betfair API
Back when Bet Angel was born there was no API on Betfair and no Betfair trading software. Back then Bet Angel would mimic the actions of a web user, just a lot faster. This was a problem for Betfair as every request made to their servers received a response and soon an arms race developed to call their servers faster and faster.
This was unsustainable, so Betfair createed API access to their servers so that they could manage the number of calls and how those calls were made to the Betfair servers.
Bet Angel connection modes
This meant you could use the API if you wish, the website (via Bet Angel), or a combination of the two. This level of customisation and connection tuning has never left the product since, though access through any other way than the API was effectively banned by Betfair when each update of the website made it harder and eventually impossible to connect via that method.
This lead to a major innovation on Bet Angel. We wanted to encourage the use of the API, but also wanted to make sure people had access to the 'NON-API' mode while the transition took place. We quickly realised that while some things ran well on the API some other things didn't so we started to offer the 'connection mode' concept of connecting to Betfair.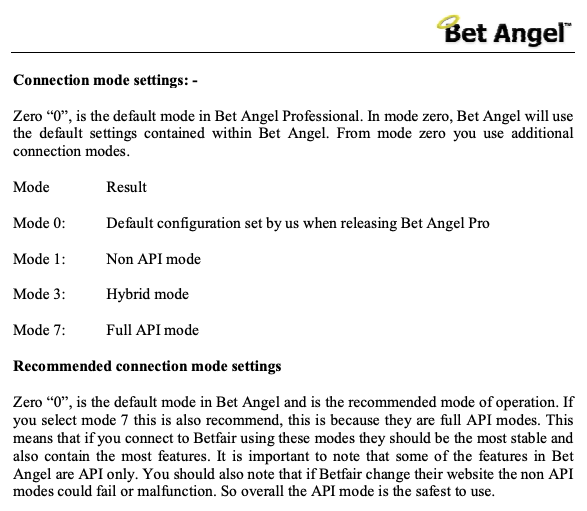 Connection modes are no longer available, but when Betfair released API NG that allowed us to create a new tool with significantly more control over how you could connect to Betfair. This was further supplemented when Betfair released their latest streaming technology which we also quickly adopted.
Bet Angel Communications tool
The Bet Angel communcations tool is designed to let you tweak your connection to Betfair in a number of ways. Over the years each time Betfair update their API, we update Bet Angel and the communciations tool is included in that.
For a full release shedule check out the this area of the forum.
As with our old concept of connections modes, the communications tool lets you mix and match what you want from a connection. Bet Angel allows you to connect to Betfair using either API NG where you 'poll' prices from Betfair or you can use their latest streaming technology so prices are 'pushed' to you.
Either way, you can tweak many differing aspects of the way Bet Angel communicates with Betfair. This is best learnt by looking at each individual aspect. See the graphic at the end of this article to see where to locate each of these features.
The Dynamic connection tuner dictates how Bet Angel will act on the information returned from Betfair. If you have low latency, high-speed connection then the tuner can be pulled to the left to the lowest number possible to optimise how Bet Angel manages data from Betfair. You know you have 'tightened' it too much if price updates stall. Putting to a higher number will make Bet Angel more tolerant.
Use exchange streaming, lets you determine if you want to use the Betfair stream or the conventional API NG 'polling' to retrieve key information. On Bet Angel, you can choose either so if there is a problem with streaming you can instantly switch to polling and continue trading. Polling retrieves information, whereas streaming pushes information to you. Polling is restricted to calling Betfair 'only' five times a second, there are no such limits on streaming as the data is pushed to you. There are advantages and disadvantages to both.
You can choose to get Bet Angel to calculate your profit and loss locally. This can shave a few calls to Betfair and speed up things a little but is only recommend for markets where you have small numbers of trades.
All functions of Bet Angel that communicate with Betfair can be modified, so you can speed up or stop communications that you feel are important or not. Some are not applicable when streaming and are greyed out.
Connection smoothing changes how Bet Angel displays any data. It's difficult to describe in a non-technical manner how it behaves but the name more or less explains it's function.
Constantly updated
Hopefully this article gives you a few pointers as to how you can further optimise Bet Angel to take advantage of the engineering that lays underneath the software. It's something that we constantly work on and everything Betfair tweak something, we review it and tweak Bet Angel.
We fell this is important as, in a competitive market, every edge counts.
It's a process that started way back before Betfair had an API and continues until this day.