If you are in Australia and are not familiar with my background. I opened my Betfair account shortly after they opened for business way back in June 2000. My vision was the betting exchanges would change the landscape of betting forever because they offered opportunities that traditional bookmakers and sportsbooks were unable to.
It was with that vision, that I quit my well-paid job to take up my role as probably one of the first full-time professional Betfair traders. That led me to create the first serious Betfair trading software, Bet Angel, and a whole range of strategies that have shaped the betting exchange landscape. Trading on Betfair is something I have thoroughly enjoyed for two decades now.
Best job in the world, until you need to explain it!
Sports trading is the best job in the world, but difficult to explain and fairly well detached from traditional betting, so it's often difficult for people to understand. After all, if you said to people I gamble on horse racing and win before the race has started and regardless of who wins, it just some utterly implausible.
But when people ask me now what I do for a living I just reply, "I watch sports for a living". From there I can talk a bit more about sports and Betfair trading if they are interested.
The simplest summary I can give you about your objective when you are trading a sports market is that you are doing it in the same way a financial trader trades financial markets. You watch the amount of money being matched and use that to give you an indication of where the price is going.
In financial markets, profitable trading is achieved by trading the price movement in an underlying asset. Apart from when sports trading this asset could actually be a football match, some golf or a horse, or more precisely, the chance of a horse winning a race.
A lot of things have happened in the two decades that have passed since. But, despite being on the other side of the world from the action, Australian racing has been a big part of that.
My introduction to trading horse racing on Betfair
Trading horse racing pre-off is my speciality. It's something I've come to love and enjoy for many years now and the scale of what I do has grown over the years as I've found better and better ways to trade horse racing markets.
While I was an early adopter of Betfair, joining just days after they opened for business, my foray into racing markets wasn't immediate. I traded other markets before moving to horse racing.
This was because I knew nothing about horse racing! I had to find a way of making money from horse racing that didn't rely upon beating people by analysing the form. So fairly quickly I discovered that you could actually trade in and out of positions on sports markets using the Betfair betting exchange and Betfair trading was born. This wasn't a betting strategy, but something more like trading a financial market.
I soon realised that if I was going to actually trade on Betfair for a living, I need something better than a standard web interface to place my bets and trades and one of the first pieces of Betfair trading software was born, Bet Angel. At first, it just did basic one click betting, but quickly expanded to include a ladder interface, linking to an Excel spreadsheet, watch lists and more advanced strategies on the Betfair exchange.
Bet Angel has allowed me to dramatically increase the scope of the scale of my trading over the last two decades and discover and deploy a whole range of Betfair trading strategies. More specifically in the context of this article, horse racing.
It can do a lot of clever things, by allowing to you trade manually, semi-automatically or fully automated. Explore
Trading horse racing on Betfair
When I started trading pre-off racing on Betfair. The only race meetings that I was particularly familiar with in the UK was the Grand National and Royal Ascot. Most other race meetings meant nothing to me. So, I had to go through the learning curve of trying to understand horse racing at least a little bit.
Of course, the biggest market that I knew about in Australia was the Melbourne Cup. It was a very high-profile race meeting and therefore this naturally drew my attention.
I started looking at Australian racing markets in 2006 when I had a good look at the Melbourne Cup. However, I didn't feel like I was able to do much about it. In 2007 I returned to have a serious go at attempting to trade the Melbourne Cup in the same way that I would trade in the UK. But it was a tough start in this market.
The Melbourne cup carnival and Freezing nights in my garage
Unsurprisingly, for someone who was not brought up on the finer details of Australian racing. My first foray into the Australian markets was the Melbourne Cup in 2006.
Back around this period, when I first tried to trade it, I was still in my second ever home. Which, by then, was bursting at the seems with a wife and three young kids. Kicked out of the spare room and replaced by twins, the only way I could trade was to convert the garage by splitting it in half and calling it an 'office'. My Dad helped me create a makeshift space and we did the best we could to insulate it against the outside world.
While it's a Spring Carnival in Australia, we are heading deeper into winter in the UK. To trade the Melbourne Cup I'd have to get up at 4am, overlay my nightwear with something a bit warmer and make the short walk across the garden in the pitch black and freezing cold temperatures to reach the garage and fire up the PC. Shivering until the heater kicked in, dosed up with coffee, I would attempt to gather some composure before trading the market.
Therefore, my determination to be able to understand Australian racing and to be able to trade it effectively more or less started with the Melbourne Cup. After three years of getting up in the early hours of the morning on a Tuesday in November to little reward. I managed to make some progress on the big race and by 2008 my effort was starting to be justified.
My epiphany on Australian racing
My early activity on Australian racing was mainly limited to the Melbourne Cup. The amounts getting matched on the big race were growing nicely, in 2008 it matched roughly $4m AUD.
My antipathy for all the other race meetings changed in April 2009, when I found myself wandering around my house in the early hours of the morning UK time. I fired up a copy of Bet Angel and I had a look at what markets were available early in the morning on a Saturday. It turned out there was a fair amount of liquidity available on the Australian racing, which was promising. But I didn't recognise any of the courses.
But as the markets developed, the volume began to rise. So I sat there and watched the markets unfold in front of my eyes. I quickly grabbed my mouse and started trading. It was at this moment that I realised that rather than just the Melbourne Cup in Australia, there was plenty of decent racing taking place on other days, especially on a Saturday.
I was hooked! I continued to trade for the rest of the session and managed to get roughly $500 out of the feature race.
At the end of the trading session, I returned to bed as my wife was getting up. I finally managed to get some sleep and woke later to do my normal trading in the UK. My pattern of activity was set and from that day onwards I started trading Australian racing as well as UK racing markets.
That morning was the moment that I truly discovered Australian racing. From that point onwards it was a case of familiarizing myself with the nature of the markets, where the key liquidity was and all of the racecourses in Australia.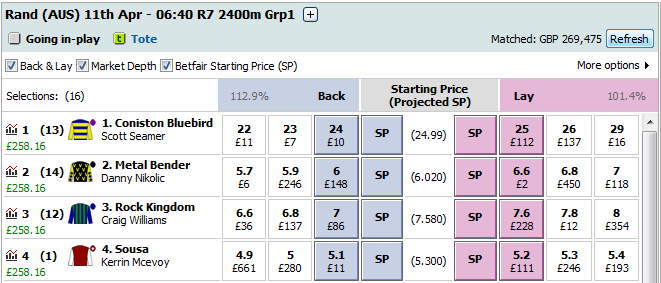 Learning the geography of Australia
Suddenly my geographic knowledge of Australia exploded as I began to understand that Ascot actually wasn't a racecourse just 20 minutes up the road from me. It was in fact just outside Perth on the west coast of Australia. Suddenly places like Morphettville, Eagle Farm, Warwick Farm, Flemington Caulfield and Randwick, were all names that were familiar to me.
As my knowledge built, so did the results that I managed to get from each of the individual race meetings. I began to realize that there was an ebb and flow and a structure to the underlying markets that took place in Australia and I could specifically target key periods where the racing was of higher quality and greater liquidity in order to be able to actively trade the markets.
As my presence grew in Australian markets, I began to get more and more ambitious and every time the spring carnival came around at Flemington I would get truly excited with the prospect of what I could do with what was in front of me.
As my knowledge of Australian racing and the markets grew, so did my results. Back in 2009 on Melbourne cup day, I managed my first ever result of over $2000 in just one day. Little did I realise that ten years later, I would be doing that on just the big race alone!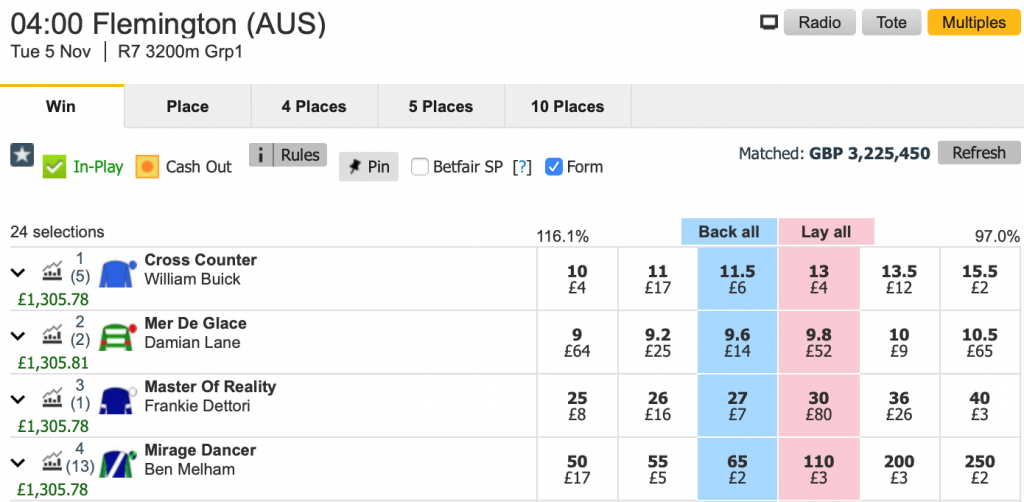 I've now been trading Australian racing for over a decade and over that time I've moved out from just trading the Melbourne cup, then trading the feature meetings, to trading all the racing cards seven days a week.
When we get to the key periods within the markets I shift up a gear and begin to focus on some of the major race meetings that take place. Typically I will manually trade them to the best of my ability. But I also use features in Bet Angel like the advanced automation to trade, when I don't fancy getting up in early hours UK time to trade a lower quality racing card. This also supplements my manual trading when I am behind my desk.
Trading is a brilliant way to profit from your knowledge of the sports markets and can improve a strategy you may already have. But ultimately it's the ability to win whatever the result of the underlying race that is most appealing. Even if that race is right around the other side of the world!
If you want to learn to trade betting markets then download a free trial of Bet Angel. We have two versions available, Bet Angel trader is useful if you are just starting out and Bet Angel Professional is there if you want to step up a gear.