You should read this article in conjunction with the one I have written about "choking" in sports.
Spotting key turning points when Betfair trading
There can often be key turning points in a sport and it's most dominant in individual player sports, especially Tennis.
One of the most subtle examples I can give in recent years is where a feather flipped Murray out of the zone and he couldn't close out the Australian Open final.
Having held his own and fortuitously won the first set, Andy Murray went into the second tiebreak having had the better of the second set.
Halfway through the tie break, down flutters a feather and distracts Murray just for a moment. It was like a scene out of Forrest Gump, who would have thought small objects could have such a big effect. After getting rid of the offending object Murray double faults, loses the second set tie break and never regains momentum.
It turned out it was a very key moment in the match. It was interesting to note that the market got it spot on at the time. Plenty of lay bets arrived on Murray at that exact moment. Seeing that amount of money turned out to be a great proxy for a key turning point in that match.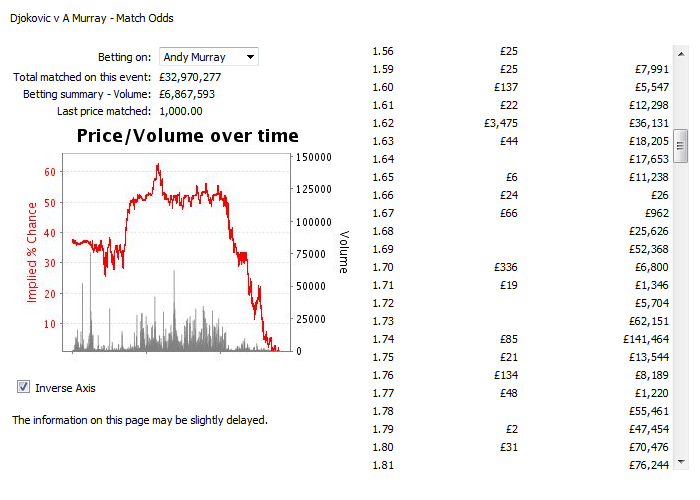 The other key moment in the match was that key second game in the second set.
Murray really had the wind behind him after the first set and served first in the second. He won his first service game to love and had Djokovic on the ropes on his following service game. Murray won eight straight points to put Djokovic on the back foot at 0-40. But he just couldn't finish him off.
It was a massive save for Djokovic. It wouldn't be until 2-1 0-1 Djokovic till Murray would get another clear chance at a break and having failed again, he was then broken and the match was pretty much over.
Taking advantage of breaks in play
Another way that players can have a 'choke' moment is when their opponent deliberately breaks up the play.
You see this is many sports, but in Tennis, you can take a 'toilet break' or call the trainer. You can put your opponent out of their flow and these things can be used tactically to bring a halt to an opponent who is playing out of their skin. It's not out of the question, but a break can also give you a chance to regroup.
Something that Novak Djokovic no doubt understood. Two sets down to Jannik Sinner and seemingly struggling to find a way through, he took a well-timed 'toilet break' and went on to win the match. See if you can spot where this happens on the graph!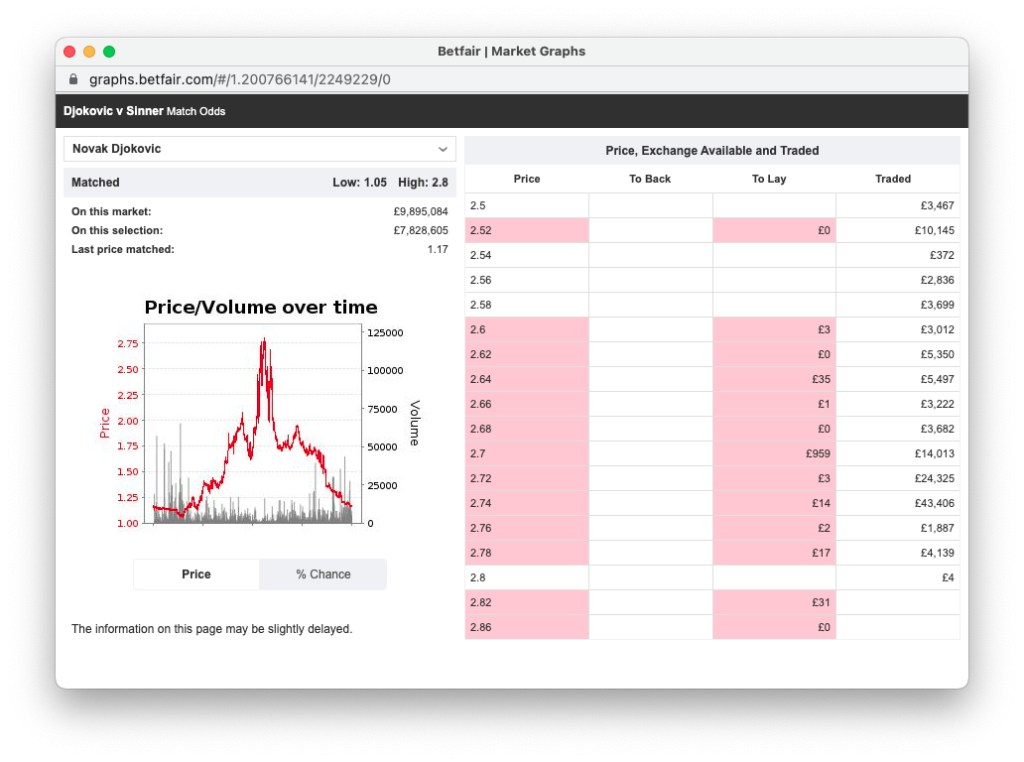 Rain stops play, starts comeback
In 2012 I was looking forward to a decent men's final at the French Open.
The first set was a bit of a mish-mash with five breaks in seven games before Nadal went on to go two sets up. Djokovic needed something to turn it around and it came out of the blue, or grey to be more accurate, a rain delay.
After the delay Nadal had lost his stride and this gave Djokovic the chance to get back into the match. At that point it was Nadal looking to the heavens for an opportunity to get Djokovic out of the zone and the weather obliged again. The two rains delays, and subsequent swing in fortunes, account for the majority of the movement on the right of the graph.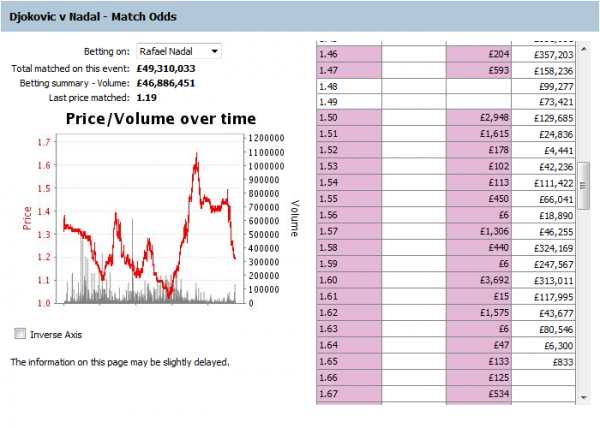 Summary
Often you can find opponents who will deliberately try to get you to choke, some people choke easier than others. But understanding the thing that gets you there, will help you trade that situation a lot better. Maybe it can also help you, in a number of different areas.
Basically, understanding what's going on in somebodies mind, either on the field of play or in your own mind, is a key trading tactic!