As we move into November, that can only mean one thing. Dark evenings, wind rain, small fields and a lack of quality horse racing for Betfair trading. But, like trading itself, it really depends where you are looking for the opportunity.
Opportunity aplenty
If you are new to Betfair trading and not trading full time, or perhaps doing matched betting and about to start trading. Your focus may be just UK sports. But you may not be aware that on the other side of the world at the moment there are some group horse racing markets at this time of the year. The Melbourne Cup Carnival starts this weekend and the Spring Carnival Season in Australia brings many highlights, but also we have the Breeders Cup in North America. Both meetings attract international horses and jockey's to compete for big prize money.
The interesting thing about these races is they are tradable, but to understand how. Let me take you back to when I first discovered the Melbourne Cup carnival.
How I accidentally learnt to trade Australian racing markets
The problem you have during this period is that Melbourne cup day is on a Tuesday at 4 am UK time! For a few years I, figured out that it would be a good opportunity to try and trade it, but getting up in the middle of the night is not easy. Remaining focused is not easy in the middle of the night and trading markets that you don't know anything about are not easy either.
I failed for a couple of years when I first tried to trade this meeting and it took a stroke of luck to get me on the right path. I injured my arm one year and I couldn't sleep because I couldn't find a useful position to rest it, so I started wandering around the house. It was then I thought I know, let's fire up the PC and see what's going on and there was some Australian racing on.
I figured out that the sport was the same as in the UK, the sports trading markets would probably be the same and therefore the price movement. So I started messing around on Australian Racing and finally started to make it work.
The Melbourne Cup Carnival
The Melbourne Cup carnival at Flemington is the highlight of the racing calendar and one of the biggest meetings. A big Melbourne cup field will greet you on the day as well as a bumper crowd, all urging on their selection to win the Melbourne cup. This race is commonly known as the race that stops a nation, because many people in New Zealand, as well as Australia, pause to watch the races. It was such a big horse race, that it became a renewed focus for me.
The Melbourne Cup meeting takes place on Saturday, Tuesday, Thursday, and Saturday, so you get four big days, of which the highlight is Tuesday and there are plenty of races to trade. However, Flemington can start at midnight / 1 am and finishes early hours in the morning UK time so if you're not a night/morning person then it's difficult to do much with it. The Melbourne Cup has a tradition for its turnover totals to be running into the millions, so it is certainly a tradable meeting.
Over the years I began to get more and more confident that I could get something out of it. So I've traditionally brought a high level of focus to this particular week in the year for a number of years now. I know that it is something that I can do, but it takes a lot of extra effort to be able to do. But life seems to reward such endeavour. If you can't commit to a long session, then a sensible way to do this is catching the back end of the card at 6 am, that may be a less painful way to have a look at some of the markets.
So while there isn't much going on in the UK, there is something going on in Australia. However the markets do trade slightly differently so if you are doing something in the UK and you want to try to in Australia, you might not be able to do that, so please bear that in mind.
The Breeders Cup
Before I started trading on Betfair, the only US racing I had ever heard about was the Kentucky Derby. I soon learnt however about The Breeders Cup World Championships and one thing I learnt was that it moves around a bit. Not the market itself, although it does, of course, it's the location that moves. It has been in Santa Anita and Del Mar in California on a number of occasions.
One year, due to my interest in adventures and the world of sports, I decided to go to Santa Anita. I wasn't sure where it was, so I thought I would drive there. (It turns out that it's not that far from Bet Fair HQ in Los Angeles). I drove up to Santa Anita, parked up and walked towards the gate where I was challenged by security.
As soon as I opened my mouth and spoke a bit of English, he just assumed that I was something to do with the horses, so I went straight in! Here I was, the day before the championship started and I gained free access to roam around Santa Anita. It was hilarious! I got to see every single part of the entire park from the stables to the commentary box.
I've also visited Del Mar, where this years meeting will take place.
I've generally had positive experiences of trading the Breeders Cup, though it trades very differently from UK racing. It tends to trade better when it's on the east coast as that's still at a reasonable time in UK terms. On the West Coast, the last race is past midnight.
Friday tends to be a precursor to Saturday so I may skip that now and again. But Saturday night when the big race is on is always worth a look.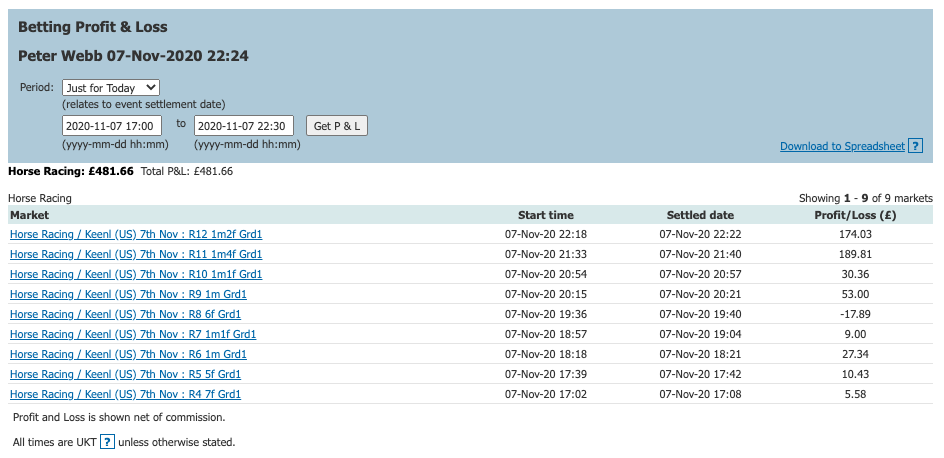 Masochists of the world unite
When the Breeders Cup race takes place, you've got this situation where the UK racing finishes on Friday evening and intermixes with the first day of the Breeders Cup. Then Australian racing starts up, taking place in the early hours of Saturday morning. Then when that finishes, there is a small gap and the UK racing starts again, and then that dovetails into the Breeders Cup on Saturday where all the real action takes place.
If you're totally mad you can trade all of the above without getting any sleep. You won't be surprised to know that I've done that!
I've always felt it is worth it because as we head into the winter racing calendar, things get a little bit quieter. So it's quite nice to be able to get stuck into some racing before we have to wait for some of the better-quality jumps racing that will get underway before long.
I've used this as a marker in recent years to round off the busiest part of the year and kick-start Q4.
It's been a useful experience for me. In the past turnover was pretty high on these meetings and plenty of things going on. If you're mad like me, then it's probably worth a look. But please don't expect it to act exactly the same as it would in the UK and also expect to be very tired by the end of this marathon weekend!