Tag: trading strategies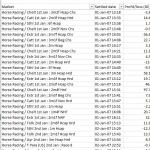 Well, that was a really good week. But then I really do throw the kitchen sink at big meetings like Cheltenham,. The reality of day to day trading though is starkly different.
Big meetings and races
Big meetings and races don't come around that often and account for a very small percentage of the mix over the year. So when they occur I push as hard as possible, it's the only time I can do that. They probably only account …
I think it's safe to say we all had fun watching some of the opening premier league fixtures last weekend.
While it would be nice to think the whole season will be packed full of action of this kind, with remarkable comebacks and sterling fightbacks,  it's unlikely.
Trading opportunities
Obviously, a notable match was the champions, Chelsea, losing at home to Burnley who struggled to muster any decent away form last year. I and a number of people picked up …