Interested in trading on Tennis? Why not combine some knowledge with the best Tennis trading software around!
[If you are finding this via an outdated link this promotion was run in 2015 and is no longer available]
The offer
Order a copy of Bet Angel Professional (excluding one day access) and get a copy of Dan Weston's – 'Mastering Tennis trading' completely free of charge. Click here for an overview of the book, we are giving away the full version!
Read about how to trade Tennis in Dan's book and then execute your strategy using the many tools available in Bet Angel.
With Bet Angel you get: –
The unique Tennis modelling and profiling tool – Tennis trader

Live scores on each match

A handy watchlist so you can look at all matches and scores all at once

The ability to trade on live scores via a spreadsheet

 Completely automate your Tennis trading via Guardian's automation tool
Check out www.betangel.tv to see the software in action.
Offer information
Free guide available when you renew or order a new subscription to Bet Angel – Professional.
Even if your subscription is not up for renewal. Order a new subscription and you can use your serial number at some point in the future to extend your existing subscription at a bargain price! Offer only applies to Bet Angel professional orders of one month or more.
Minimum purchase value of £29.99 required.
We only have limited availability so the offer may end early.
How to take up the offer: –
Buy a new subscription or extend your existing subscription using this specific buy now page.
Click on this link to add 'Mastering Tennis trading' to your order
Enter coupon code 'TENNISTRADING' and a £19.99 discount will be applied to your order. Checkout your order to get the discount.
You will receive a download link shortly after checking out. If you have any problems, please contact support.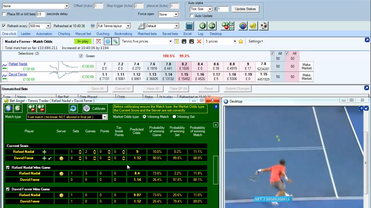 Category: Tennis
I left a good job in the consumer technology industry to go a trade on Betfair for a living way back in June 2000. I've been here ever since pushing very boundaries of what's possible on betting exchanges and loved every minute of it.