Trading on Formula One racing may seem unusual, starting to trade even before the season has even started is even more unusual; but it can often present some really good opportunities.
Like most markets, there is always a strategy that you can find which makes perfect sense and which doesn't often require any specific detailed knowledge of the sport.
After a winter break, I watch preparations for the new Formula 1 season at the start of each year with interest.
The various teams are testing new cars and configurations and it generally leads to a mixed bunch of results. But typically that's what testing is all about. It's at this time of year that you will start to get a feel for how the new season will go and you can actively trade that.
Uncertainty
The uncertainty during testing and any rule changes that occur from season to season can throw up some unexpected results as we head into the season. So I'm always really interested in taking a deeper look at things and am preparing to take advantage of this uncertainty.
From a trading perspective, I love uncertainty.
Typically this trade is best used where there are major rule changes.
The opportunity
I first experienced this trade back in 2009 when Lewis Hamilton, who opened in the drivers' championship market at 3.50, admitted during testing that his McLaren car was 'not competitive'.
If a trainer came out and said that a horse was not competitive, you would expect the price to drift quite a bit. If Hamilton was the trainer then his car was the horse and his price for title started to drift.
Prices in Formula one tend to take a little while to get fully discounted into the market. But after testing, the first pole position of the season should confirm matters and get the price, excuse the pun, motoring.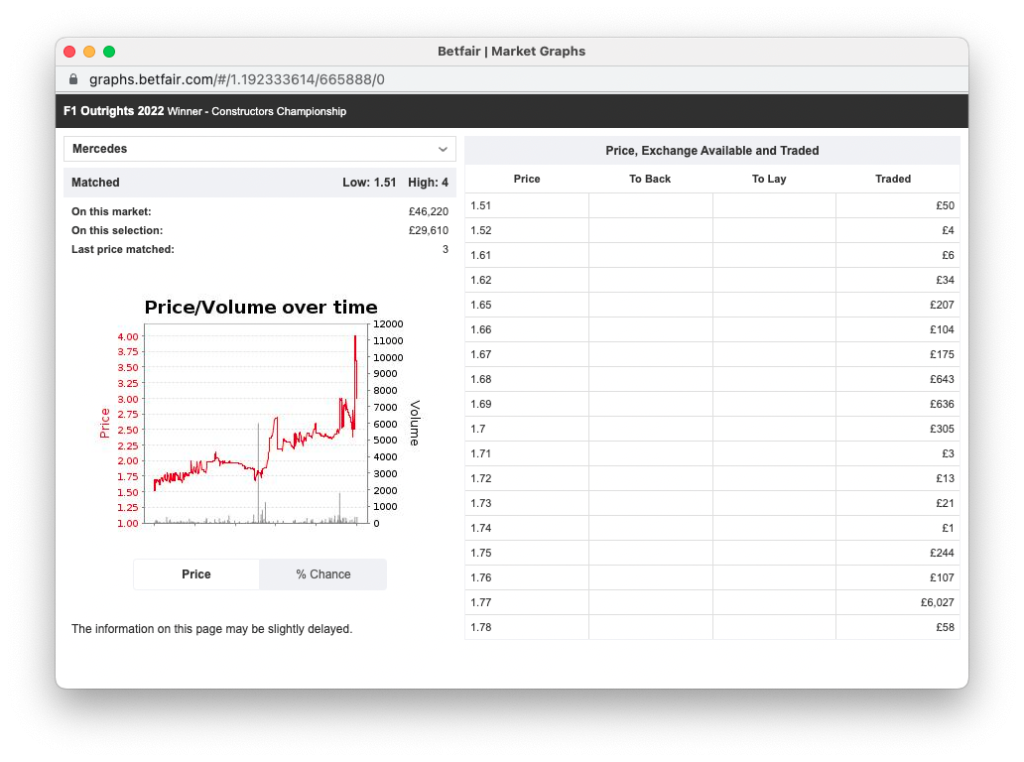 A trade that has worked for years
The first time I attempted this trade was In 2009. The price of Lewis Hamilton to win the title was 3.50. During the testing he stated the car was not competitive, offering an opportunity to get a lay in.
The price eventually drifted considerably, making for an excellent trade. But the price, even just after pole at the first Grand Prix of the season, was a chunky 10.0. I had made a decent profit even before the cars had lined up on the first race.
It's a trade I've repeated over the years and while some years haven't seen any major moves you can be certain that some years definitely will.
In a season where there are no major rule changes, it's less likely that you will see a spectacular drift. Each time there are rule changes you can get a changing of the guard as the sport tries to nullify competitive advantages to make itself more entertaining. Some of these changes intentionally muddle things up and from a trading perspective that's perfect.
News flow coming out of the test tracks will give you a clear signal as to where the market is headed and dropping in on specialist forums will help you confirm that and give you more confidence with your trade.
With that knowledge, you will be able to trade it successfully.