Most Betfair automation has quite a simple starting point. You build something that performs a simple function then you tweak it, add things, create new ideas and before long you have a suite of Betfair bots. Adding more automated trading, whether it is partial or full automation, will allow you to become a better Betfair trader or save time by automating your betting strategies.
Users of Bet Angel's Advanced Automation may often find themselves needing to duplicate or re-create similar rules over and over again for each automation file they make. Horse racing markets tend to have defined endpoints and most Betfair trading strategies share some key elements which are duplicated.
What you may not be aware of is the Bet Angel Rules Editor already contains a 'copy' button on the top ribbon of the rules editor that allows you to quickly and easily copy rules from one file to another. This allows you to easily merge the best bits of your automation into a new rules file.

Putting it into Practice
A good example to demonstrate this would be to take the 'Close Trade if in Loss for 10 seconds' automation rule from the shared files library. That automated bot file is made up of 3 rule types with signals linking each one.
Adding a set of rules like this to a new automation file you create would normally take a few minutes (even longer if you have to keep flicking back and forth copying how it's set up). But with Bet Angels 'Rule Copy' feature any existing rule including all its parameters, conditions signal and stored values etc can be copied from one automation file to another in a matter of seconds and with just a few clicks of your mouse.
So, for this example, I'm going to take the 'Directional Scalping Pre-Off' automation file also from the shared files section on the forum and I'm going to add rules from the 'Close if in loss For Over 10sec' to it.
To get Started select the Automation file you want to add your existing rules too then click on 'Edit Rules File' just to the right of this.

You will now see the familiar 'Rules Editor Window'. On the top border of this window click the icon at the far right – this will open another similar window where you can select the source automation file you want to copy your rule/s from.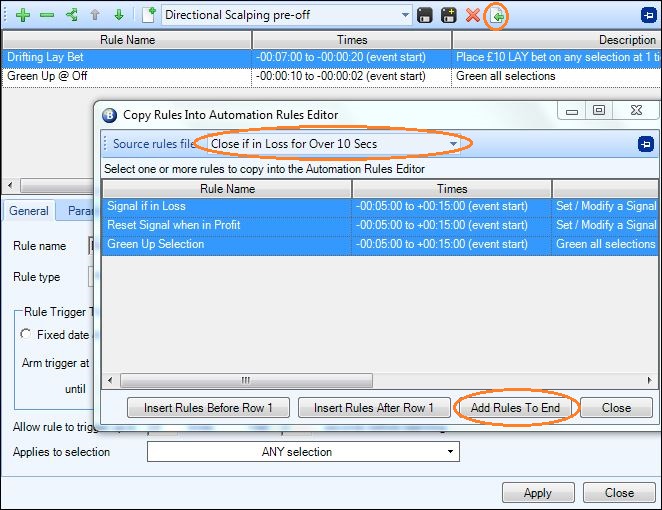 All you need to do is select the rule/s you wish to copy into your destination file. You can select as many of the rules from this source file as you wish (for this example I need all 3 of them), once the required rules are highlighted just click one of the three bottom buttons to copy them across. In the image bove I choose to 'Add rules to End' so they will appear at the bottom of my exsisting automation file I am copying them to.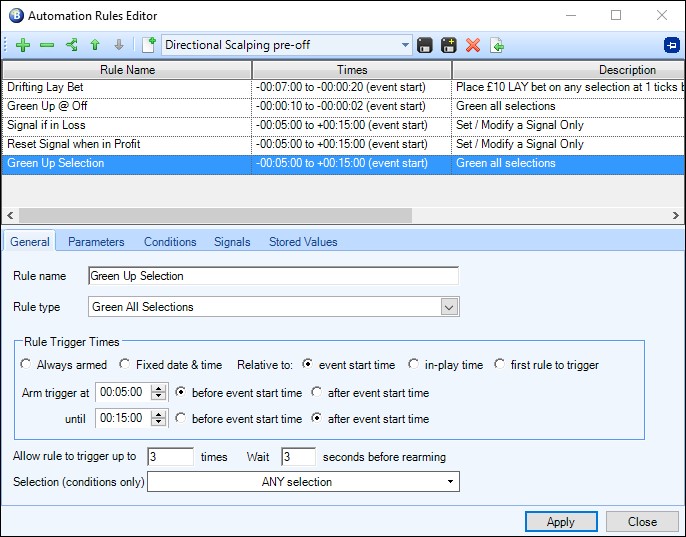 And its as simple as that….. the source window can now be closed and all the rules selected will of been added to your current automation file – just remember to save (by clicking the disc icon in the upper right) and its ready to begin using.

If you don't have many of your own rules but still want to try this out have a look at the shared files section on the forum, there are over 150 Ready-Made files you can download for free and using this simple technique you can combine rules from different files with just a few clicks.
If you don't have a copy of Bet Angel just download a free trial here. One Bet Angel license allows you to install to an unlimited number of computers if you wish.
Enjoy!
Video Tutorial