Bet Angel Servants
In late 2017, Bet Angel launched its new Servants feature. Servants are unique to Bet Angel and the only feature of any Betfair trading software that combines all the advantages of manual trading with the lighting speed of automation to give Bet Angel users the best of both worlds.
Some element of your trading will benefit from using a Servant. Whether it's alerting you to a new opportunity, getting into a position ahead of others or closing out a position the instant it sees an opportunity, Servants will be able to improve your trading significantly.
What do Servants do?
Servants make use of the powerful yet easy to use rules editor within Bet Angel allowing you to create a Servant using any of the conditions, parameters, signals and stored values previously reserved for fully automation users – they even have some additional options of their own!
Unlike automation which, you would normally set and forget at the start of the day. Servants are designed to assist your manual trading, working only on the markets you currently have on your trading screen.
They can free your mind from large parts of your trading, ie, you spot the situation or patterns you are looking for then deploy an appropriate Servant to handle the tedious side of pinpointing the precise time to place the bet, enter and exit.
They can be used as simple helpers, through to fully automated trades under your control tirelessly watching for the precise moment to act based on the instructions you've given it.
Servants have been made very easy to start and stop in a variety of ways. You can use keystrokes, mouse clicks, popup menus or even custom columns added to the one-click betting screen. They have also been designed to be as flexible as possible, so many options when creating them are context-sensitive. This means you and can make use of which selection, price and stake used under your mouse cursor when they are started.
Ever since they were introduced I've slowly built up a small army of them (which is still expanding all the time) and now have countless servants ready at my fingertips ready to deploy when the situation arises. In short, they have transformed the way I others using them can now trade the markets.
Downloading Ready-Made Servants
The Bet Angel forum contains dozens of ready-made servants you can download and begin using straight away, and in five simple steps you will be on your way to building your own army of Servants
Step 1 – Open a market from the 'Market Selection' window

Step 2 – Download any of the ready-made 'Automation Servant' rules files from the dedicated shared files section on the Bet Angel forum. To do this simply click the thread title of the Servant you're interested in and just below the description, you will see a link for a file name ending in .Baf, just click this to download the Servant to your PC.

Step 3 – Back on your main Bet Angel screen click on the Bellboy icon at the right side of your main banner to open the 'Servant Manager' window, then click the rules tab and 'Import a rules file' and navigate to the folder on your PC that you just downloaded the servant .Baf file to in step 2.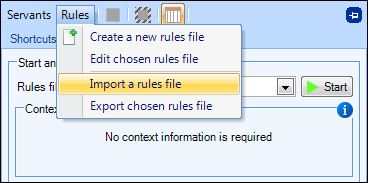 Step 4 – Staying in the Servant Manager window the following step is to click the 'Control' tab and select the rule you have just imported or wish to run from the drop list and click the 'Start' button. Depending on how the servant has been created and the task its to perform you may then need to choose the selection, price or stake you want to run the servant on.
You will hear the sound of a desk bell ring and the 'Bellboy' icon will now change colour indicating the selected servant has been started and is now either pending or active. Below In the most recently started servant window you will also see a coloured circle next to the name of the servant started also indicating if it's Pending (yellow) or active (green) and below this is the full details of all the rules of that servant showing the times they will be active and the number of times they have triggered.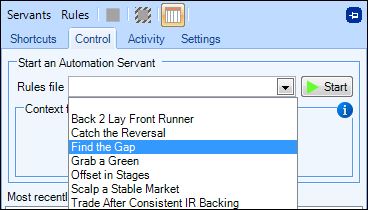 Step 5 – Now just sit back or continue your manual trading while your Servant gets on with its given task.
Getting started with Bet Angel Servants
Servants have been designed to be as flexible to use as possible. So in addition to starting a servant as described above in step 4, there are also numerous other ways they can be started, this includes using a shortcut key, a custom column on the one-click screen. For more details on these please refer to the following page of the Bet Angel user guide.
There are also multiple ways in which you can stop a servant which are detailed more on this page of the Bet Angel user guide. If you would like to have a go at making your own servant it very easy to get started and the following blog will walk you through step by step.
Servants are a great way to refine your manual trading. Whatever you use them for they will give you that extra edge against other traders in the market, allowing you to get in or out of position slightly quickly that other manual traders or get alerted to new information that other traders may not see.
They should make up a key part of your trading weaponry!
*Remember Servants are designed to assist the manual trader and are intended to run on the market you have on your current trading screen, as soon as you switch to another market any servants running will automatically be stopped so there is never any danger of them triggering in the background without your knowledge. For multi-market trading, use Bet Angel's advanced automation.