If you are using Bet Angel V1.51.1 or above, there is the option to quickly import and export individual saved settings and layout profiles. You have always been able to import and export a variety of things, but above this version number, it's much more comprehensive.
This is particularly useful because, as a feature-rich piece of Betfair trading software, it's important to be able to move all your data and settings around with ease. I use dropbox to duplicate all my main settings.
The following are useful features and advice if you have Bet Angel installed on multiple computers or a VPS when you have created a setting or layout profile on one PC. But then want to use it on another without the hassle of setting it up again from scratch.
The process to export or import key settings into Bet Angel is simple. Just follow the on-screen menu items: –
Screen layout settings
The screen layout settings on Bet Angel allow you to quickly switch between your own 'perfect' trading screen. You can undock and modify the screen as much as you wish and move different parts of Bet Angel to different areas on the screen. You can even move Bet Angel panels onto different monitors and store all these screen settings under a profile. Just a single click on your Bet Angel main screen will bring up an unlimited list of your favourite screen layouts. Perhaps one for pre-off, one for in-play and others for the same states in different sports.
To save, import or export these settings look under the 'view' menu item.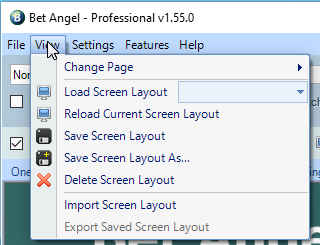 Bet Angel main settings
Bet Angel can be modified in a number of different ways, the amount of customisation on the settings is massive. If you haven't checked it out, the main settings panel in Bet Angel allows you to modify a large number of things in the way that Bet Angel operates. Again, you can create a range of modifications and options specific to your trading style and sport and select them with a couple of clips from within Bet Angel.
To save, import and export custom settings. Rather appropriately, head to the 'Settings' menu.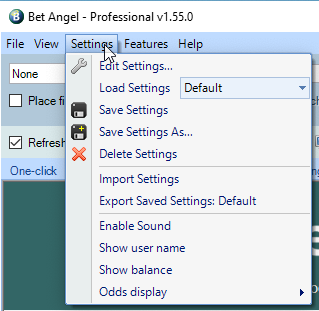 Bet Angel Ladder settings
As will all other settings, the Ladder settings on Bet Angel can create a huge range of versatility and flexibility on the ladder interface. There are too many options to list here, but at a fundamental level, you can make your Bet Angel ladder look and behave like any other ladder you have used…. and then some. In this area, you can configure special information that is tailored to your specific trading strategy. Check out the information on this blog post.
To create, import or export the ladder settings. Click on the spanner in the ladder pane and go to the settings tab.

Transfer ALL settings to a new PC
If you have just installed Bet Angel on a new PC or remote server, you may wish to transfer all your existing Bet Angel settings including all saved layouts, settings, and servant/automation files etc in one go.
To do this, navigate to or copy and paste the following into your address bar in windows explorer: –
%homepath%\AppData\Roaming\Bet Angel\Bet Angel Professional
(or if you're using Bet Angel Trader then replace Professional with Trader at the end,)
Add SE if you are using the server edition: –
%homepath%\AppData\Roaming\Bet Angel\Bet Angel Professional SE

Then select ALL the files and folders in the view you see and copy them to the same location on your new PC. If you are already logged into Bet Angel you can use a shortcut to get to the same area.
Open guardian and click on the 'Advanced Settings' tab located above the main Guardian banner, from here click 'Explore Reports Folder'. Then in the window that opens, click 'Bet Angel Professional' in the address bar to step back one page as shown in the image below that will take you to the same Bet Angel directory as the link above.
Bet Angel File extensions
There are many areas that allow importing/exporting of settings and files. Most have been available for a long time and you may be aware of, but others you may not be so familiar with. So if you wonder what those settings are I thought it was worth listing these areas and their file extensions: –
Screen layouts (.blp)
Settings Profiles (.bsp)
Ladder Settings (.bls)
One-click layouts (.bgl)
One-Click Custom Column profiles (.bcc)
Automation files (.baf)
Servants (.baf)
Advanced charts (.bcs)
Guardian Market List Layouts (.gml)
Guardian Custom Columns (.gcc)
Market Search Filters (.bff)
Coupons (.bcf)
Summary
Bet Angel has a massive range of customisation features, which makes it one of the most customisable pieces of software out there. This is great for your trading as you can tweak Bet Angel to suit your particular edge or Betfair trading strategy.
Whether it the grid interface, the ladder or any of the other features, all the trading tools can be used to carefully construct exactly what you want depending or what you want to do or wish to replicate. Now porting all those settings between PC's or devices is simple using the import and export functions or just doing a straight copy of the key files.
If you want to learn to trade and haven't used Bet Angel we offer a free trial, so you can learn more about these features and have a good play with all of them in training mode.