Bet Angel Guardian
One of the major features of Bet Angel is its 'Guardian' tool.
It's pretty much a complete piece of software in its own right and if you dig deeper it contains many tools all of which significantly enhance your ability to find or trade markets and contains one of the key features of Bet Angel, advanced automation.
It's a major feature of Bet Angel, but curiously, one that people seem to omit when reviewing it!!!
Key concepts
Everything you do in Guardian is able to work as a background task while you work on your main trading screen. This means that you can actually set up Guardian, get it to perform key tasks and shut it down again while you work on your main trading screen.
As well as doing loads of really clever things, Guardian is a great place to start out if you want to look at a range of markets quickly and easily. You can import, display and sort many different markets and display key information so that you can act on information and markets that interest you. Get everything you need all displayed in front of you exactly the way you want so you can find key trading opportunities quickly and easily.
You can trade markets via coupons, watch lists, automation, Excel spreadsheets all at the same time on Guardian and they will run for you even if you have closed Guardian. So you can use Guardian completely autonomously or use it to aid your manual trading. You can also spawn additional one click or ladder screens from Guardian easily.
This is thanks to the way we designed Guardian and we consider it such a major part of Bet Angel and almost an entire product in itself. It's very versatile on its own and just its key features vastly exceed anything available in traditional stand-alone Betfair trading software.
Main interface
Excluding the top left tabs, the main interface is split into three areas.
On the left, you have the market filters and searching, which allows you to find all the markets you are interested in. On the right, you have all the markets you have loaded into Guardian and underneath that, you have the information from the market that you have currently selected.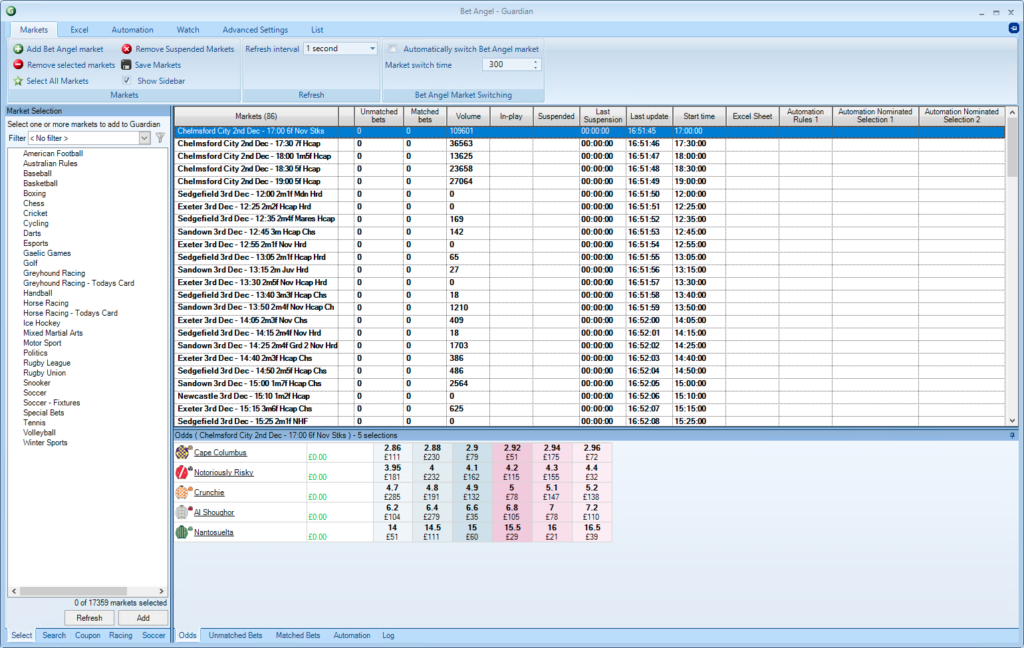 Populating Guardian with markets
To use Guardian properly you should populate it with markets. You can do this by using a number of options on the left hand 'Market selection' panel. On this panel, you will see a list of ways to find the markets you are most interested in.
There are dedicated tabs at the bottom of this panel to search for Racing markets or Football (Soccer). But most people prefer to use the search feature or the specialist 'filter' tools.
While they may feel a little complex at first, we have included a range of samples. Essentially, Bet Angel's filter tools allow you to pre-define, then save and select exactly the markets you are interested in. This will save you enormous amounts of time in the future when you are searching for specific markets or set-up's to use in Guardian.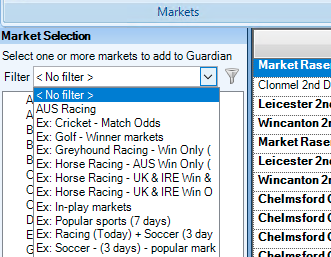 Interacting with Guardian markets
When you have a market loaded into Guardian Bet Angel will start acting on it and any instruction you have applied or added to that market.
If you have just loaded the market in Guardian it will just sit there updating and providing you information about those markets. I load all the markets into Guardian early in the day so that Bet Angel can start gathering data on them in the advanced charts.
If I want to trade one of the markets in the list a quick double click and I am transported to that market. But if you right-click you are provided with a host of options. These include the 'Quick bet' option which allows you to zip into a market and place a bet with you see an opportunity, rather than using a standard interface.
But, if you wish, you can also spawn a completely new one-click or Ladder interface right from Guardian. If you want to archive the data you can see, you can export data this way also.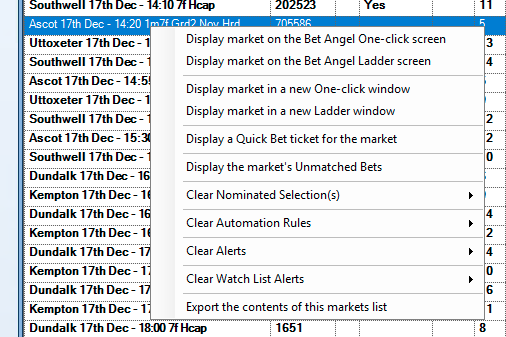 Markets tabs
Clicking on the markets tab will allow you to control the way that Guardian interacts with the list of markets you have populated it with. This is typically to do with how often Guardian refreshes each market. But you can also add remove or save the market lists from this tab.
Setting the refresh interval allows Bet Angel to cycle through each market to check to see what automation or other items need to be acted on and update them accordingly. You can set this as low as 20ms, meaning Bet Angel can check 50 markets a second. You can load up to 1000 markets into Guardian, but the typical limit is really the speed and power of the computer you are running it on.
As a reminder, Guardian will do all this in the background if you wish. If you close Guardian and trade on the main interface, it will happily work away for you at this speed in the background.

Linking Guardian to a spreadsheet(s)
You can link any market to a spreadsheet on the main interface using the Excel tab. But on Guardian, you can go a step further and link multiple markets into one Workbook on Excel.
This vastly increases the range of things you can do as it means you can populate Guardian with related markets and get them to all interact with each other and place bets based on related market information. Auto binding allows you automatically switch the spreadsheets that Bet Angel is looking at.
All this can happen in the background while you are using other Guardian features, or working in the main trading interface in Bet Angel.

Advanced Automation
If you fancy running a Betfair trading strategy completely automatically 24×7 then the Advanced automation feature is where you should make your home. Despite being a small tab within Guardian this is another feature that is like a tardis, much bigger than it seems from the outside.
There is a whole world of opportunity with advanced automation. Whether you use it to spot and alert to you opportunities, to analyse markets and pump data to your favoured trading screen, to supplement your manual trading or to fully automate your Betfair trading. There is a whole world to explore here.
Even if you are able to code yourself Advanced automation will allow you to do away with the pain of writing Betfair API compatible code and use common coding conventions in a simple to understand UI.
Because Advanced automation can work unattended it can pay for itself either through analysis, finding opportunities or actively trading the market for you without you having to lift a finger. It will pay for Bet Angel itself, whatever you use it for.
Again, thanks to the way Guardian works you can continue to work on another market while the automation works its magic for you.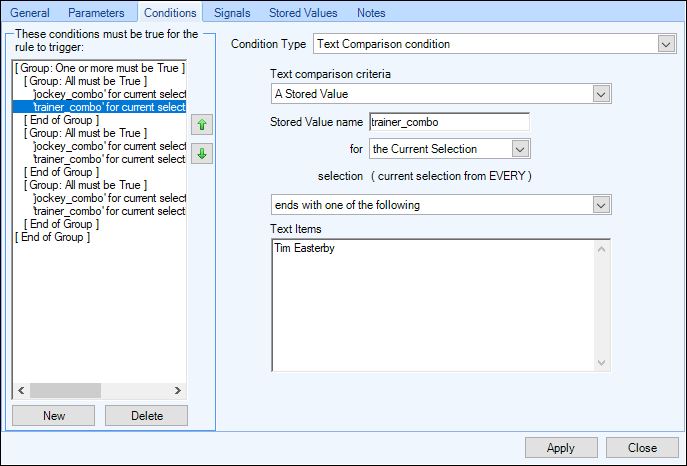 Watch lists
If you are busy on one market but want to keep an eye on a number of other markets you can do that on Guardian, but you can do it even better with a watch list!
Watch lists allow you to look at a range of markets and display the key information on each of those markets. You can even put alerts and information into a watch list so that you can get visual alerts on key things that are happening within the market. Combining them with automation will allow you to 'push' key data into the watch list so that you can customise what data you want to see.
You can also push live data like Tennis scores into the watch lists. This is incredibly handy in the early stages of a Tennis tournament.
As with Guardian you can click on a market to bring that market into focus on your trading screen, or right-click to bring up additional screens or spawn a new trading interface.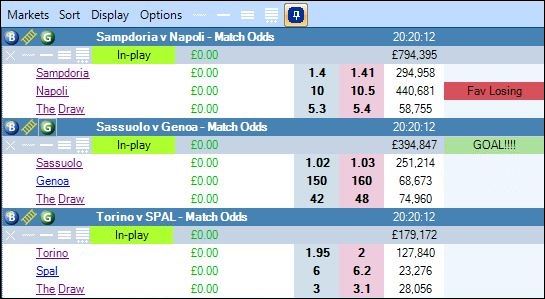 Guardian Customisable Coupons
Sometimes it's really helpful to see lots of information in front of you, especially from related markets.
Guardian takes this up a level by allowing you to load markets into Guardian then link and display them all at once in a fully customisable coupon. Data will synchronise between markets to make sure you have all the key data immediately available.
You can jump into a market with a simple click and examples of popular coupons are available on the forum to download and import.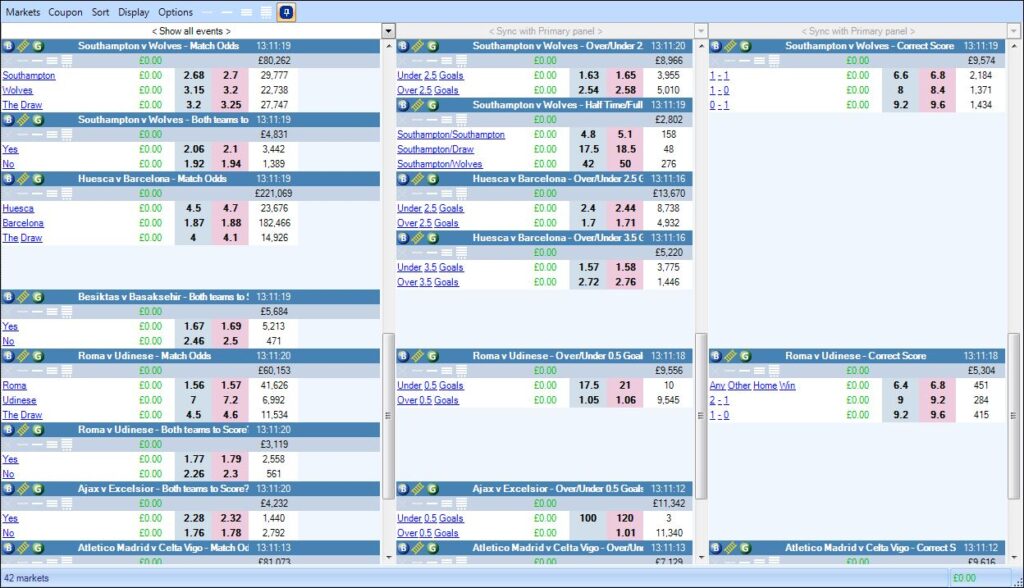 Guardian Lists
Like all other features in Bet Angel, the Guardian tool can be completely customised to suit your needs. Using the 'list' feature you can import, export and modify how Guadian looks to suit your needs. You can download and import additional examples and templates for our forum.
Again, you can use Automation to push values or calculations into Guardian to help with your market selection process or to alert you to opportunities you are looking for in the markets.
The key concept with this feature is to tailor Guardian to present actionable information to you in a format that you prefer.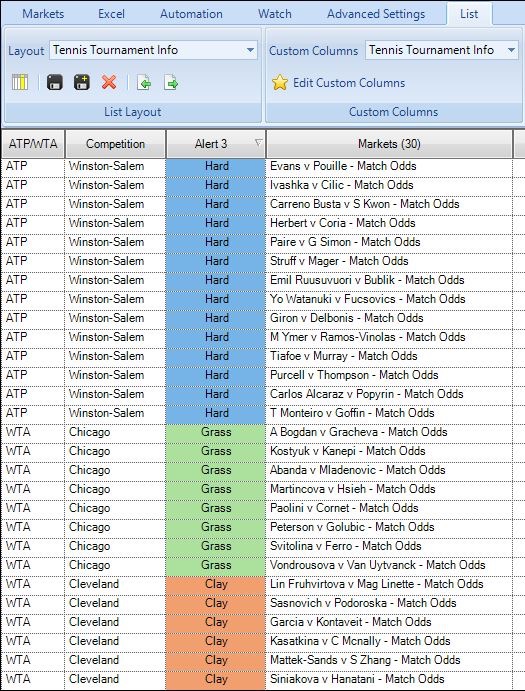 Guardian – Summary
Guardian is a very feature-rich part of Bet Angel and something you should thoroughly explore. Its opportunities are boundless and its features are very deep and fully customisable, all designed to help you spot or exploit opportunities you see in markets.
Each one of the features on its own is far advanced than what you see in any other software in its entirety and could be a piece of Betfair trading software in its own right.
All the features in Guardian work together and independently of each other. This means you can use all of them at once or use them to supplement your existing trading. You can even hop backwards and forward to your favourite trading interface or spawn additional interfaces from Guardian.
Better still, you can set up Guardian the way you want then close it down while you work on the main Bet Angel trading interface and Guardian will continue to work its magic for you without even being on your screen. Automation, Excel, watch lists all run in the background if you wish.
Using Bet Angel's Guardian tool you can really take your trading to a completely new level!