Using Bet Angel Coupons and Market Syncing
Bet Angel can do a lot of clever things, but I wanted to show you a neat trick that you can do in Guardian if you're actively trading markets and submarkets of those markets.
I'm not sure I summarise that well, so here is a practical example. If you're on a football match and you want to look at and/or trade markets that sit underneath the main market, this is a neat way of doing it. Let us say you're looking at the match odds within a specific football match, but you also want to trade under or over two and a half goals.
This is a really simple, easy, quick way of achieving that using Bet Angel. That's one of the reasons we think it's the best Betfair trading software.
Setting up a coupon
To start with you need to set up a 'coupon' on Bet Angel. If you want to learn more about Bet Angel Coupon's before you get started, have a read of this blog post.
To set up a coupon, you need to use Guardian. So click on the 'G' to start Guardian. When you first look at Guardian it's just a blank canvas, so let us paint on that canvas. What I'm going to do is use the coupon feature in Bet Angel.
I've pre-prepared some coupons. So, I'm going to look at today's footy matches. (The only reason I've called them A1 is so they appear at the top of this list. It makes it easy for me when I'm recording videos. No other reason than that. You should call them whatever you like).
What this is going to do is it's going to search for today's football matches, which you can see on the left over here.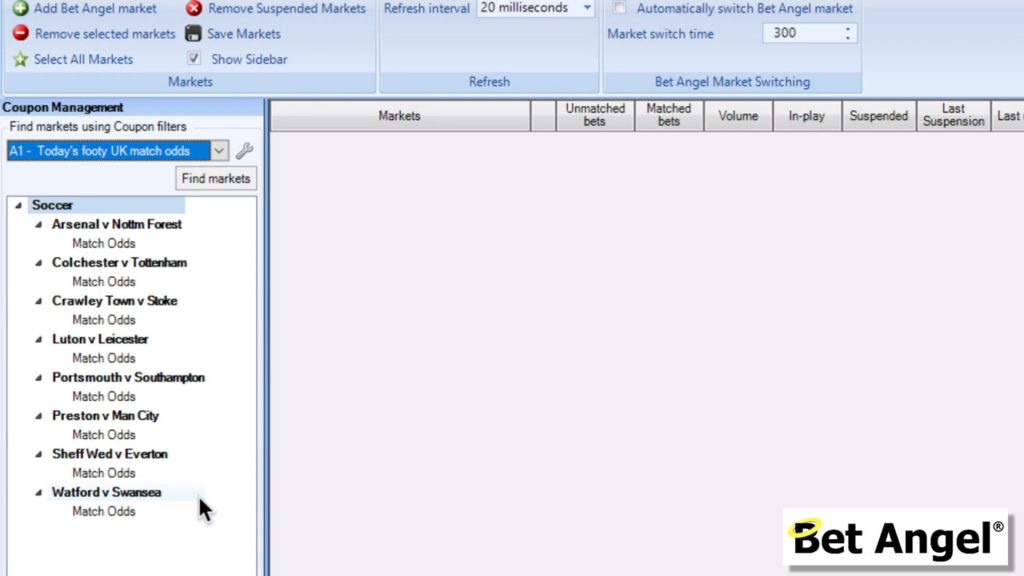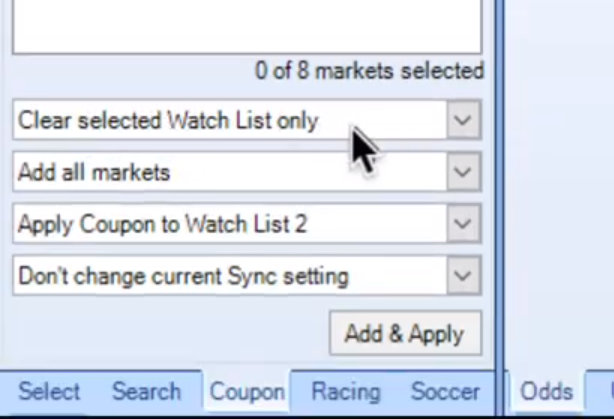 And then at the bottom of the coupon, I'm going to do a couple of different things.
We're going to clear the selected watch list only.
We're going to add all markets and we're going to add that coupon to Watch List 1.
And we don't want it to change current sync settings. You'll understand why in a second.
If I do add and apply, what this actually does is it adds them to Guardian and brings up the watch list.
You can see below Watch List 1, today's footy and Match Odds. These are all the matches that are taking place this evening.
What I'm now going to do is I'm going to bring up the other coupon, which is today's footy Over/Under and you can see all of the matches. There are lots of different matches going on outside of these. I've put a volume limiter on the match odds market, so it doesn't pull in any sort of games that we're not interested in.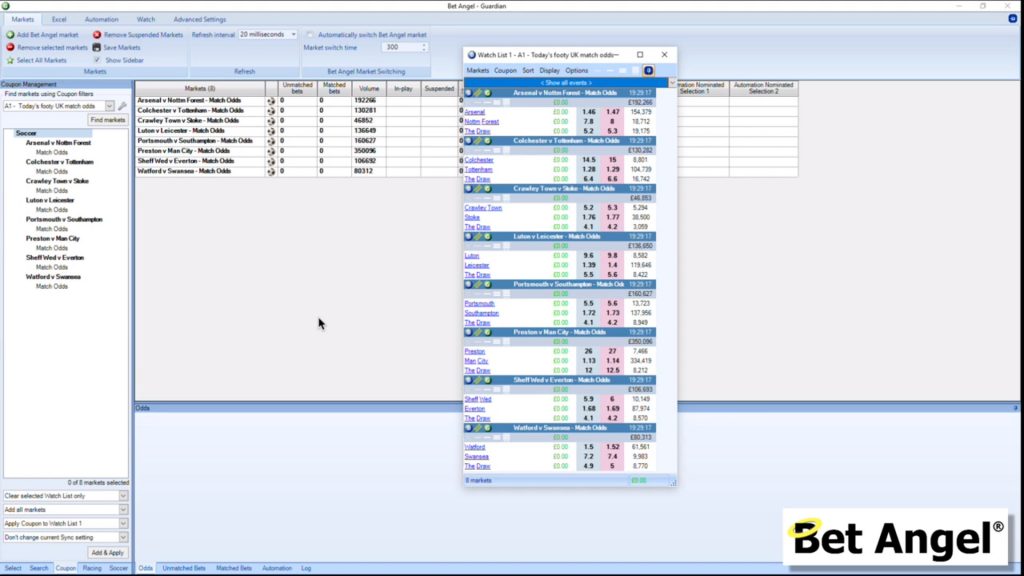 But I've got a slightly looser one on the Over/Under market. You can see there are a lot more of those. So, what I'm going to do is clear the selected watch list, add all of the markets and add to Watch List 2. And then I'm going to do add and apply.
You can now see all of those markets get pulled into Guardian. They're all populating and stuff is happening within those particular markets.
But you can see that the watch list is blank.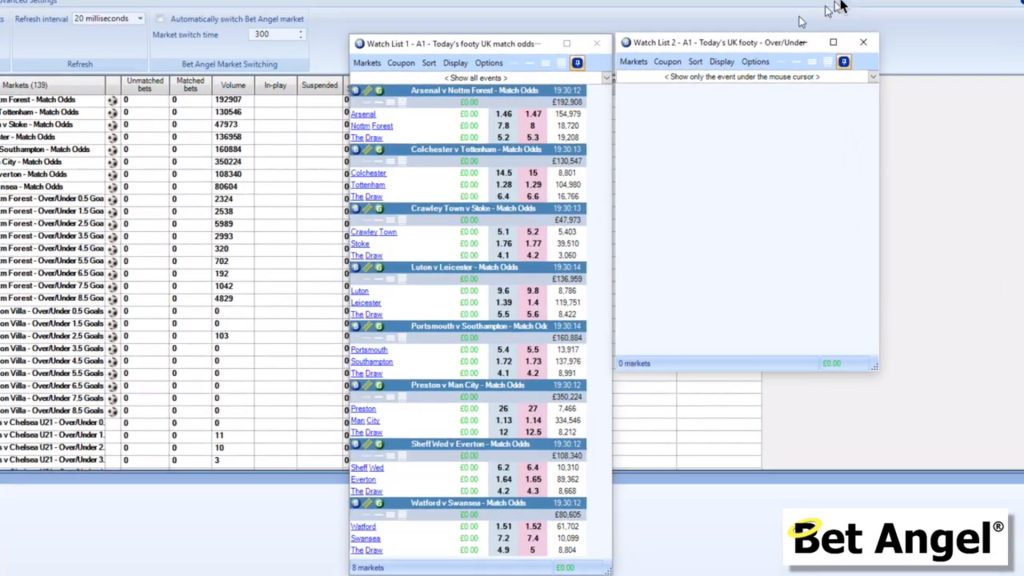 Watch list enchancements in a coupon
If we look at the top bar here on the watch list when using a coupon, you can see we've got a number of options. Because we're using it as a coupon we can actually go in and look at it in an individual match like Portsmouth v Southampton. So you can see you can actually switch backwards and forwards between individual markets if you so wish from there. You could actually show the event that selected in Guardian.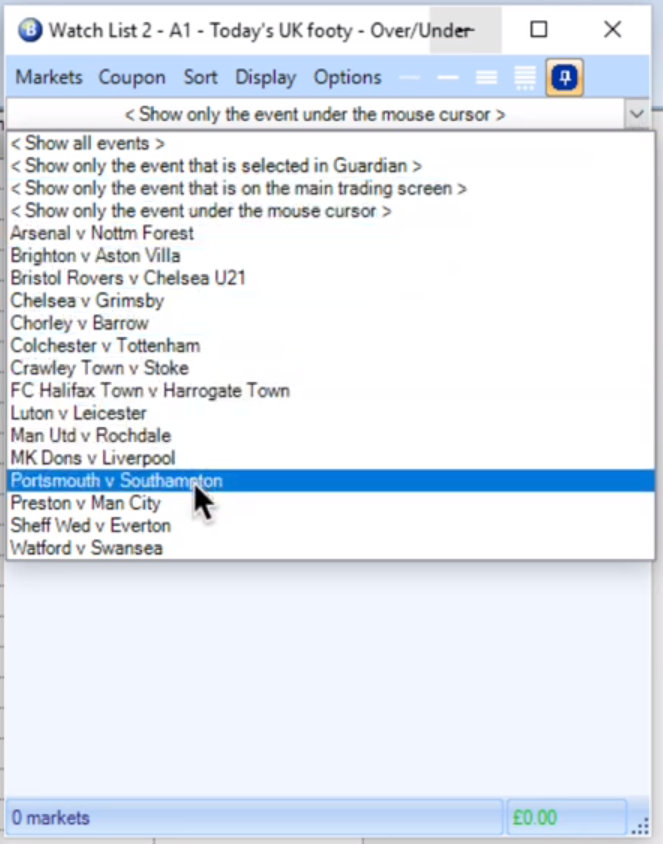 Go and select a market in guardian and it appears, on the Watch List from there.
You could also show the event that's on the main trading screen. If it's not on Guardian maybe it's on the ladder or it's on the one-click screen and something that you're doing on the main one-click screen, which could be on another screen if you wanted it to be. But I'm going to do on this occasion is only show only the event underneath the mouse cursor.
So what will happen now is if I actually move around on here, then this will actually change the other watchlist.
So we're working in one watch list, but it's automatically changing all of the information over on the other list. If I expand it so we can see all markets, as I move backwards and forwards, all of the information is changing dynamically.
That's one of the big benefits of the coupons, not only are they customisable, but you can actually create your own coupons that are interlinked effectively.
As you move the mouse cursor over one particular market or subset of markets, then it will appear and automatically sync across on the other screen.And then you can take it to the next level from here, because if we go up to options, you can see it says when a price is clicked, what you want me to do? You could do nothing, display it on the one click screen, display on the ladder, display it on a new one click screen or display the selection on a new ladder.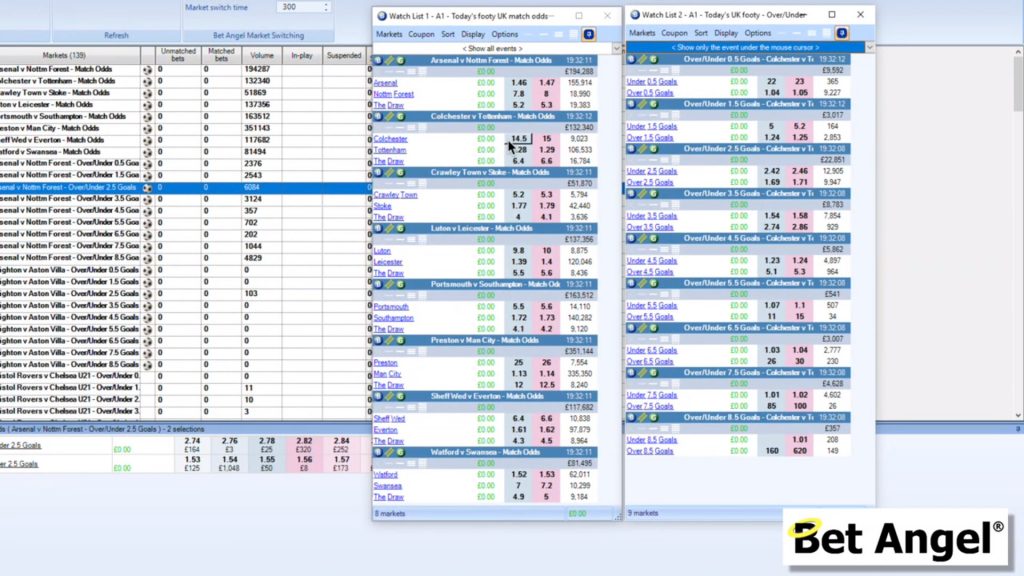 Benefits of coupon and watch list syncronisations
With Bet Angel, a watch list can allow you to have an 'at a glance' look at a range of markets complete with additional information such as alerts. The coupon allows you to do something similar but grouped in a panel that you can manage, with main markets and sub-markets.
Combining the two will allow you to monitor all markets and submarkets together, meaning you can trade a main market, keeping an eye on your immediate trading screen, but get Bet Angel to switch elsewhere without you clicking anything.
This means you can:
Work on one screen, on your main trading interface, on perhaps the market that you're interested in.
Get the watch lists displayed somewhere else.
Automatically sync to an underlying market and whatever market you choose
Initiate an action on any main or submarket really, really quickly.
So if you want to take action you can do so with either a one-click screen, a ladder, or as you can see if you watch the video, I've used a quick bet ticket within Bet Angel to do that.
It's a very neat way on Bet Angel of trading a market like football where there's one primary market and then lots of secondary markets that sit underneath that. But you can apply it to any sport. On Tennis you could have match odds and set betting, or with Horse racing you could have win and place markets. The only limit is your imagination.
The main benefit is that you can watch all those markets, switch to a different one and place bets in a number of different ways, quickly easily and accurately with the minimum of clicks. This will allow you to act much faster than others who don't have access to similar tools.