Tennis is an excellent sport for betting or trading.
The unique scoring system in Tennis means odds movement is very volatile, which can produce great trading opportunities. These often happen due to heavy odds on favourites stumbling or remarkable comebacks from the dead.
Betting or trading in play is popular in Tennis because of these characteristics; therefore, roughly 95% of all bets matched on Tennis are while the match is in-play.
Understanding the Tennis tours
The main Tennis tours are split by gender; they are called tours because they move around the world each year. This can present problems and opportunities if you are betting or trading.
The season starts in Australia in January before moving through Asia and across Europe for the clay court season. Summer in the UK brings Wimbledon and Autumn the US Open in New York. From a betting or trading perspective, this can cause some issues, as you may find at the start of the season; in the UK, matches start early in the morning. By the end of the season, they are finishing in the early hours!
Grand slam tournaments start with a round of 128 matches on the men's and women's draw. So try finding an opportunity in one of those 256 first-round matches in the middle of the night can't be challenging.
Fortunately, there is a solution. Bet Angel has many trading tools explicitly designed to help you not only trade Tennis effectively but also find, then bet or trade Tennis matches automatically.
Practice mode
The first thing to note is that all these features in Bet Angel can be used in practice mode. So if you are unfamiliar with all its features, practice mode will let you use all its many features, but without using real money.
This gives you the chance to get familiar with all the features and capabilities without any possibility of losing any money.
Market Filters
With so many markets available in a Tennis tournament, finding the market you are looking for can be challenging. Fortunately, you can use Bet Angel's market filter feature to immediately find all the markets you are most interested in. Visit the forum to download the market filters you want or create your own.
Bet Angel Guardian
The Guardian tool within Bet Angel is the place to put all those Tennis matches.
Guardian can gather and display data, such as current betting odds or live Tennis scores, and display them in whatever way you wish. This will allow you to see, at a glance, all the matches and what is happening with them.
You also have a range of other features in this area of Bet Angel. When a market is loaded into Guardian, you can link it to an Excel spreadsheet, put it on a watchlist or completely automate your betting or trading.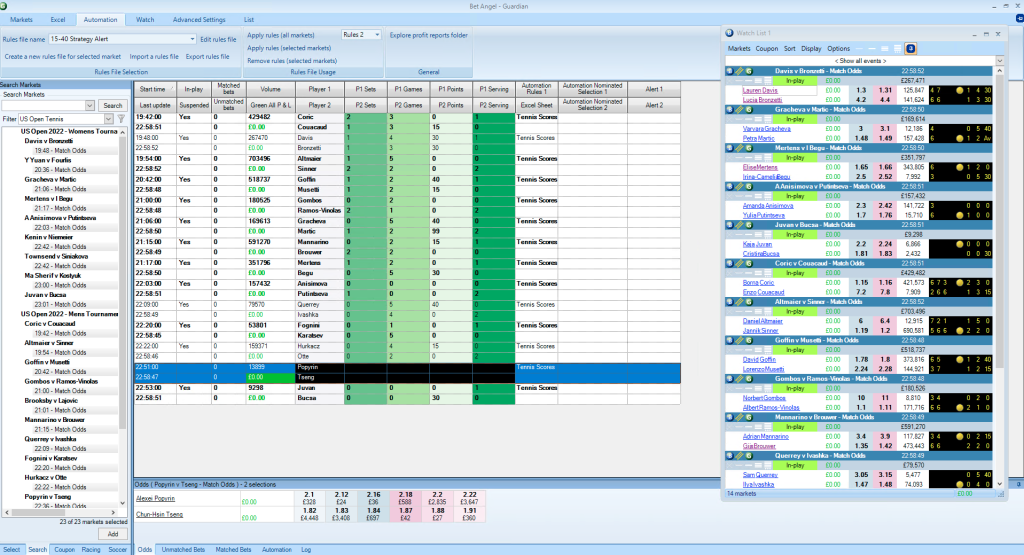 Bet Angel Automation & Alerts
The key feature in Bet Angel's Guardian tool is the ability to completely automate your betting or trading.
You can apply up to five sets of automation or alerts to each match. This means you can mix and match automation to be alerted to an opportunity in a match or completely automate your betting or trading. No matter what time of day or night, as long as you have Bet Angel running, it will be scanning those markets and acting on your instructions.
Setting up the automation is really simple, and it's just a case of picking some menu options from within the software to tell it what you want it to do. For example, you could tell it to back the favourite if they are a break and a set down. Or if a server is 15-30 during a game in the final set, you can tell it whether to back or lay and in a variety of different ways.
The sky is the limit with automation, and if you want to get into more advanced automation, it allows you to use capabilities more familiar to traditional coders. Bet Angel has done all the hard work for you, allowing you to focus on your strategy and look for opportunities.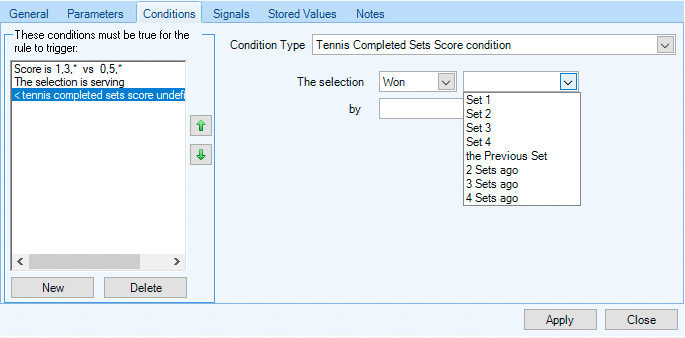 'Oven ready' Automation for free
To help you further, you can download and import ready-made automation from the Bet Angel forum.
Various betting and trading automation files are available for you, and they are easy to import into Bet Angel. If you can't find what you want, somebody has probably created something similar and posting a quick question to the forum should allow you to get some help in achieving what you want.
Tennis markets are very volatile and likely to produce shot results and plenty of opportunities. Automating your betting or trading is a great way to either find those opportunities or act on them at whatever time of the day they occur.