Tomorrow we have the finale to the flat racing season and the curtain raiser to the flat season. How can you have both? Let me explain….
UK Racing – Ascot Champions Day
First, we have Champions day at Ascot, and it promises to be a real feast of racing. It may not be Royal Ascot but the racing on show tomorrow at Ascot racecourse is right up there in terms of quality.
Champions day only came into being in 2011, so it's relatively new in the scheme of things, but it's a weekend I wouldn't miss for anything now. From a Betfair trading perspective, it's the last shot at a decent total before we descend into winter.
The specific races existed before this meeting started but were brought together to bring in a real feast at the end of the season. It's one of my highest turnover weekends of the year. Last year, the average turnover was over £2m per race and it's gathered more momentum every year.
I did a video explaining why this weekend brings an excellent opportunity to turn over some vast amounts, but at relatively low risk. A slightly tongue-in-cheek title, but a good description of what your fundamental objective is when trading.
Australian Racing – The Everest and Caulfield Cup
While the Ascot meeting in the UK doesn't have a Royal in the title, it is one of the biggest days in the flat season.
Meanwhile, we have a Royal in the title at Royal Randwick racecourse. Tomorrow morning we have The Everest. It's got $15m in prize money, so I'd imagine if you stacked that on top of each other, it might be as high as Mount Everest!
It's a monster of a race, and today will be my traditional prep for the Melbourne Cup meeting. Learn a bit more about it here: –
https://www.australianturfclub.com.au/races/everest-day/
Be aware of the NSW turnover charge
Aussie racing is a bit more liquid at this time of the year; the Everest should approach somewhere near £1m in matched bet turnover.
Talking about turnover, be aware that races in New South Wales are subject to the Australian turnover charge. A heinous crime against punters and Betfair traders in Australia. Betfair Australia, who do a great job of supporting the exchange, have explained it in more detail by clicking on this link.
For this reason, you may not want to trade at Randwick this weekend. To summarise, the commission is charged as a percentage of back bets; this makes trading potentially unviable.
It's an unwelcome charge, but it does illustrate how the laffer curve works. Increased charges on races in New South Wales have meant that most races in this territory have slumped. This is silly because a lot of that turnover is incremental and coming from overseas, so any gain in revenue is lost in turnover. It's crazy.
Sorry for the economics lesson.
The Caulfield Cup
If you are an early riser, the fun starts at 02:15 in the morning UK time. The big race, however, is at a more realistic 06:15. So even if you struggle to get out of bed on a Saturday morning, you may still stand a chance of catching some good quality Aussie group race.
But that is not all we have on the card as we also have the Caulfield cup, another huge race and this group 1 contest kicks off at the more reasonable time of 07:15 UK time. As the race takes place in Victoria, the turnover charge does not apply, so you can go hell for leather on this race, which is what I intend to do.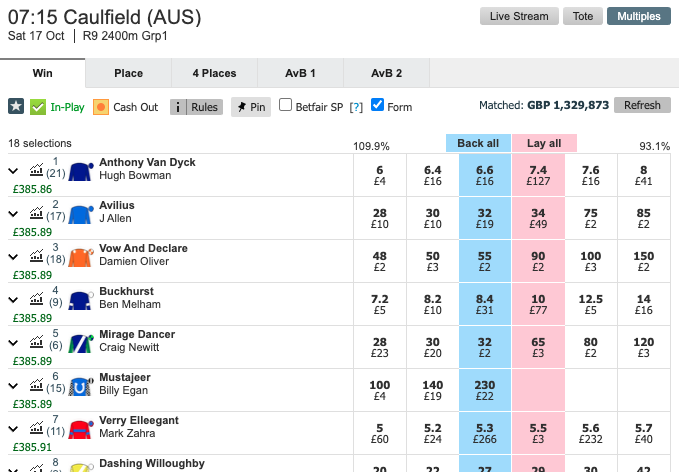 In 2020 Betfair Australia offered zero commission at Caufield, and it really lit the market up. Despite not doing that since it's still a really good meeting and one you can get stuck into. So I'd advise you to have a look tomorrow morning.
It's a real cracker of a day and one that gets off to an early start. I'm looking forward to it!