Tag: greyhound racing
Back in 2010, I commented during some bleak winters months, I had a dabble at Greyhound markets.
Since then I hadn't done much work on Greyhounds as the return per day didn't justify the effort. However, since that last post, two things may me revisit them.
The first is some renewed interest in the forum, and the second is the turnover figures I saw when I reviewed the markets at the start of the year. Bet Angel has …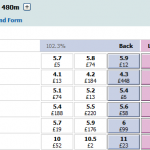 I thought of calling this post 'Dogging' but changed my mind! LOL!
I noticed last night that it was the greyhound derby semi finals at Wimbledon. I'll often nip in and do something on the Dogs if I get the chance and I did last night. If you have never traded them before they are worth a go but don't expect horse racing like results. The liquidity is lower and the opportunities a bit up and down. The main opportunities …